These Christmas porch railing decorations will make your house the envy of the neighborhood!
Dress your home for the holidays with style by starting with the outside. Creating the best first impression during the holidays is essential, it will get everyone in the festive spirit as they walk up to your house ready for the big holiday get-together.
There are lots of things you can do to improve your home's curb appeal for Christmas.
Consider choosing a festive holiday wreath, some large planters with evergreens and if you want to go full-on National Lampoon, you can go wild with the Christmas lights on the roof and front yard.
If you are lucky enough to have a porch, you can dazzle passers-by with some amazing decorations. read on for some fantastic options that are budget-friendly too!
This post may contain affiliate links, please read my Disclosure for more details.
RELATED POSTS
Front Porch Decorating Ideas For Christmas
14 Amazing Front Porch Roof Ideas
Christmas Porch Railing Decorations
The Christmas porch railing decorations are perfect for making your home look like the place to be this holiday season.
You might want to use transparent fishing wire or removable Command hooks to attach garlands and lights to your porch railings. This will ensure no damage occurs when you remove your decorations in January.
Simple Wreath and Garland
An evergreen wreath and garland tied with red velvet ribbon (check the Dollar store) creates festive curb appeal.
2. Simple Wreaths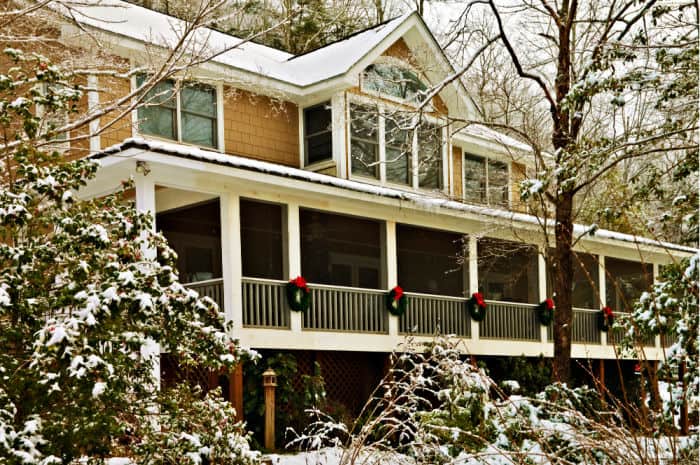 Keep it even simpler with evergreen wreaths tied to every column and topped off with a bow.
3. Glamorous Garlands
You can pretty up a simple garland by tying shimmering baubles to it using clear fishing wire.
Cream coloured velvet bows tied the length of the garland add a perfect finishing touch to these Christmas porch railing decorations.
4. Rustic Christmas
You can hang garland like swag along the length of your porch railing. Add in pinecones and red ribbon for a festive feel. Spray snow will give the pinecones a snowcapped look.
5. Overhead Decorations
If you have the option to tie decorations to the roof of your porch, you can create a really great look. Hang Christmas balls and bells by red ribbon and then offset with snow-covered garland and red berries along the railing.
6. Poinsetta Garland
Use dried poinsetta or magnolia leaves to build your own garland then hang candy coloured Christmas balls to the railing and top with hanging icicle lights.
7. Natural Garland
You can make this simple garland yourself using evergreen garland and pinecones.
8. Snowy Garland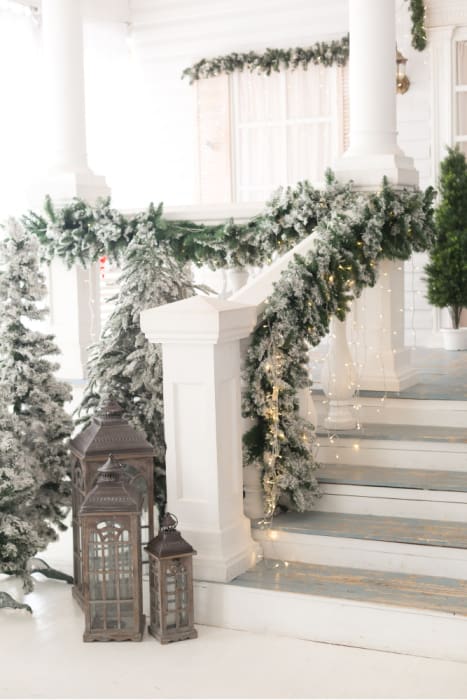 A simple snowy garland is perfect for a Christmas porch railing decoration that will last through to spring.
9. German Style Christmas
Add garland both along the railing and hanging as swag to really up the ante on your Christmas porch railing decorations this year.
10. Candy Cane Porch Railing
Wrap red ribbon around your porch columns for a candy cane look. Evergreen garland makes it look even better!
More Christmas Porch Ideas