Most of the time when we are thinking about our front porch decorating, we focus on what it is under the roof. But your choice of front porch roof ideas can really boost your house's curb appeal.
If you are considering adding a front porch to your home or you need to redo your roof, below you will find some cute ideas that can make your house look amazing!
This post may contain affiliate links. Please read my Disclosure for more information. 
RELATED POSTS
10 Fall Decorating Ideas For Outside
In addition to your front porch roof ideas, you will want to consider what kind of ceiling you want your porch to have. (the ceiling being the inside of the roof that you see when you look up from under the porch).
What materials can you put on porch ceiling?
Many porches have tongue and groove panelling, this can be made out of metal or wood. Metal is your best option for durability and weatherproofing.
Other options include plywood, beadboard (plastic or wood) and composite which is extremely long lasting.
If you use a paintable material, you might be wondering what is the best color to paint your porch ceiling. Well, traditionally light or sky blue was the paint colour of choice because it was thought to be an insect repellent.
Why does a blue porch ceiling repel insects?
The idea is that bugs think the ceiling is the sky so they don't set up house there. Light blue also connects your porch with the outdoors and creates a light and airy feel to your exterior space.
Front Porch Roof Ideas
Now we have established that a front porch is an amazing way to elevate your home's look and feel as well as providing you with a fantastic outdoor space, let's take a look at the different front porch roof ideas that you can choose from:
Two Storey Porch Roof
This is the king of porch roofs as it creates not only an amazing front porch, but also a balcony for your second floor. The architecture and design of this kind of porch normally includes columns that match the rest of the house.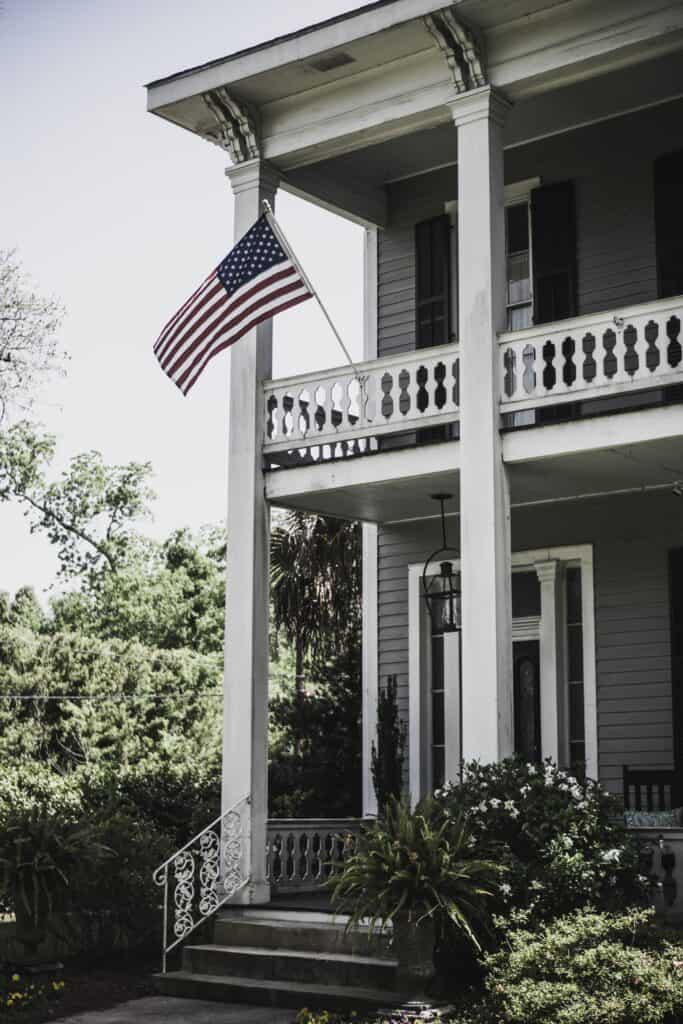 Roof Overhang
This type of front porch roof is nice if you are building your own home and can start from scratch. The roof of the house just extends and juts out to create a cute front porch.
The nice thing about this porch roof is the flow that it gives the exterior of the home.
Traditional Front Porch Add-on
If you like the idea of a porch that looks like it was always part of your home but it's too late to create a continuous flow from the roof, then this is the option for you.
You can add a porch on to any house and simply match the porch roof to the roof of the house. This is one of the most common front porch roof ideas.
Small Pop-out Porch
You can't really sit under this kind of porch but it makes a handy shelter from the rain and stops your doormat getting soaked.
It also elevates the look of the front of the house as you can see in the photo below.
Flat Porch Add-on
This majestic add-on gives this house a bit of Georgian feel. Just make sure the drainage is on point for this kind of roof.
Intricate Designs
The house below from Martha's Vineyard is a great example of how you can go further with the flat-roof add on. Short railings on the top of the roof really add a wow factor.
You can see the house next door has created a second storey balcony with their porch roof.
Simple  Permanent Awning
If you are desperate for a front porch and on a budget, one front porch roof idea to create an outdoor space is to add an awning to your home.
Below you can see a permanent awning with columns.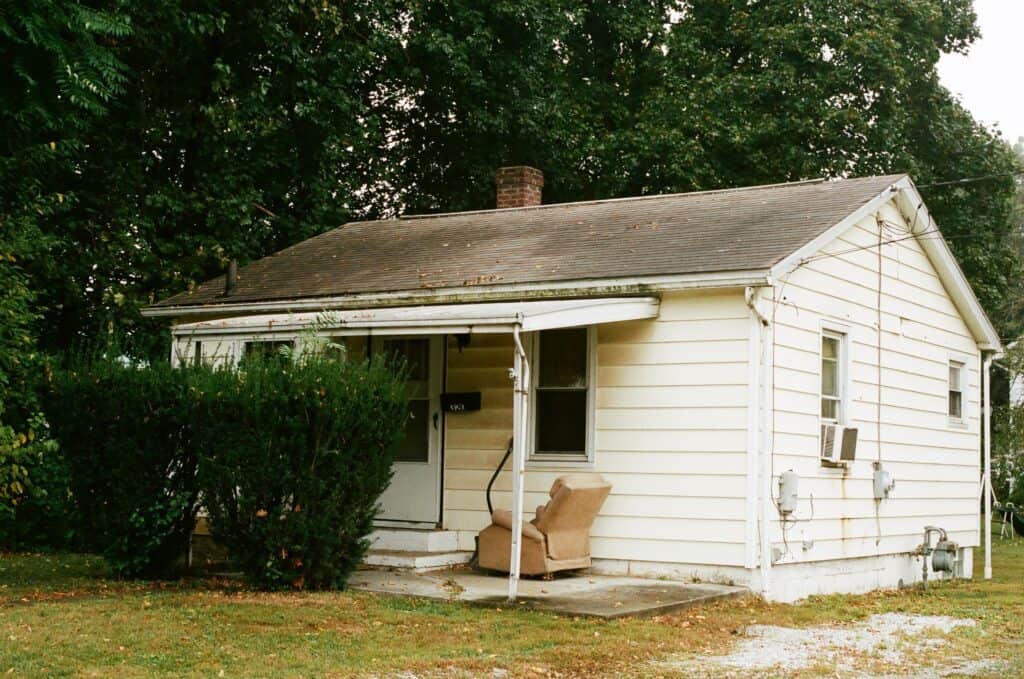 Retractable Awning
If a permanent awning isn't an option, you can get a retractable awning for pretty cheap on sites like Amazon. I bought this one for my house and installed it myself in under an hour.
Brick Entrance
I love the grand look of this kind of front porch and the way it becomes part of the home.
No Roof
Here is a funny front porch roof idea – no roof! If you live somewhere with great weather, or you just don't want to add a roof to your porch, then you can add a porch to your home easily.
The only issue I have found with this option is that is can be hard to make it feel like an outdoor space and not just part of the front door stoop.
Enclosed Porch
An enclosed porch is a great way to make your porch work all year long. The back porch below is enclosed with glass but you can use siding, brick or screening to create a 4 or 3 season room.
Triangle Jut-Out
If you like the idea of a simple cut-out roof, then below you will see the easiest option, no columns needed!
Craftsman Porch
Craftsman houses look amazing with front porches. The porch below is built to be integral to the entire house, instead of a simple roof jutting out, it is part of the structure of the property.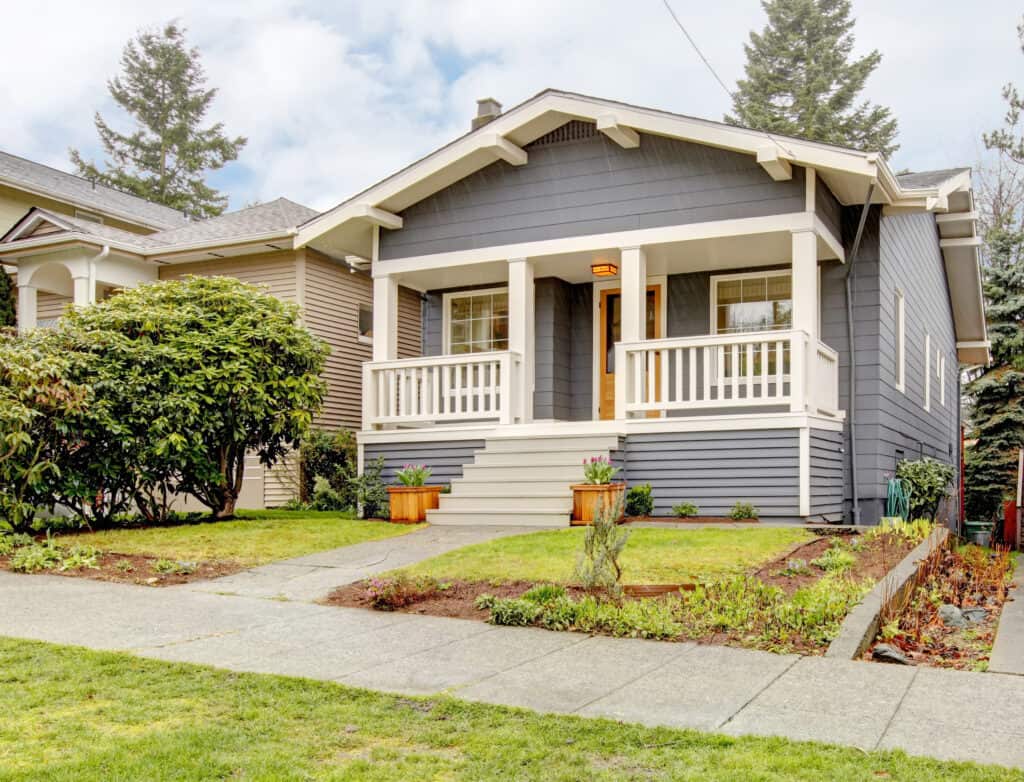 Open Gazebo Roof
If you live in a sunny climate, you can create an easy porch by adding a wooden gazebo to your house. These are pretty easy to DIY with decking materials from the hardware store.
The only downside of this time of front porch roof is that there is no rain cover.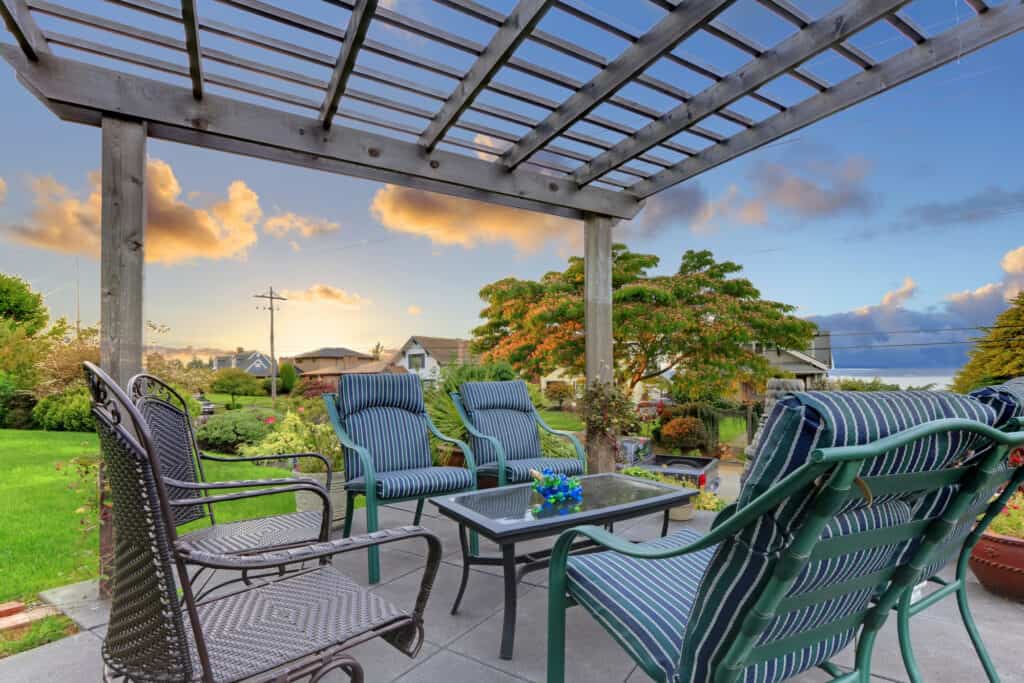 Which is your favorite of these front porch roof ideas?
Comment below!
More Front Porch Decorating Ideas
15 DIY Halloween Door Decorations
Halloween Porch Signs You Can Make Yourself
10 Fall Decorating Ideas For Outside