Decorating your front porch can be a fun and easy way to brighten up your home and add some personality. In this article we will look at some of the best outside front entry decorating ideas that work no matter how big or small your space is.
Decorating your front porch can add a splash of color and life to your home. Using a few simple tips, you can create a welcoming space that will be enjoyed by everyone in your neighborhood.
In this post we will look at some great tips for styling your front porch to get you started. These tips will help to improve your home's curb appeal and create a warm welcome for all your visitors.
This post may contain affiliate links. Please read my Disclosure for more information
MORE FRONT PORCH DECORATING IDEAS
Small Front Porch Decorating Ideas On A Budget
Porch Swing Ideas And Inspiration
9 Outside Front Entry Decorating Ideas
The front porch is the first thing guests see when they come to your home, so it's important to make a good impression. A well-styled porch can set the tone for the rest of your home and show your guests that you take pride in your appearance. There are many ways to style your porch, so use these ideas as inspiration and create a look that's perfect for you.
With just a few tips to keep in mind, you can style your front porch, no matter its size, to make it an inviting outdoor space for your friends and family.
1. Front Door
Usually, the front door is a main focal point, so let's start there. No matter what kind of front porch design you are working with, your front door should create the best first impression possible.
A classic way to make your front door welcoming is to hang a wreath. If that's too traditional for your tastes, consider hanging a wicker basket with faux flowers instead. Or perhaps a paint job is in order. Maybe a fresh color and coat of paint is what's needed for an updated look.
The great thing about your front door is that painting it a fresh color is a great way to show a little of your personality. Whether you choose bright colors or more neutral colors, your front door is the perfect place to show off your unique style.
2. Welcome Mat
Even though a new doormat is difficult to see from the street, your guests will certainly see it right before they step into your home.
Welcome mats are one of those decorative touches that don't take much work and they are an excellent way to spruce up the exterior of your home at any time of year.
There are so many welcome mats available these days, including ways to make your own or have one personalized, that this is an easy way to add warmth and style to your front porch. Choose one that blends in with the color scheme of your home and porch decor.
RELATED POST: 10 Unique Doormats For Summer
3. Seating
If you have enough space, consider adding a small table and chairs. Many people believe that the best way to utilize space is to keep it open.
While this may be true for some rooms, others can benefit from the addition of a small table and chairs. If you have a lot of space, consider adding this furniture to make the most of it.
Not only will you be able to use the table and chairs for eating or working, but you can also use them as a place to store extra items.
Adding cozy outdoor furniture to your porch can turn it into an extra living space in the warmer months and it is a brilliant way to to give your front porch a polished look.
Depending on the size of your front porch, you may be able to provide a full seating area complete with chairs, side table and loveseat.
If so, this is a great area to decorate with a color theme, including seating cushions, throw pillows and throws. From wicker to wood, your choices in this department are endless. And for a southern flair, a rocking chair on a front porch is always in style!
And of course, if you have a ton of space, porch swing is always a great idea.
4. Floral And Plants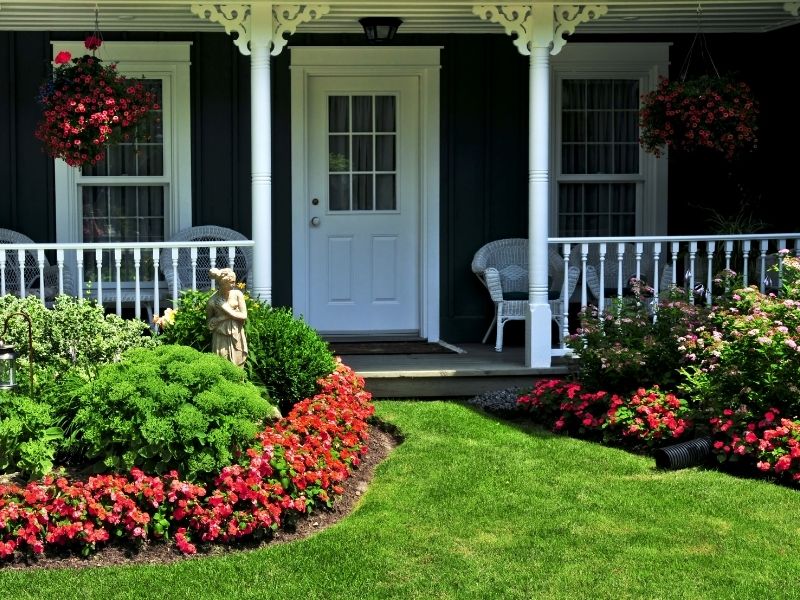 Summertime is a great time to add accessories to your porch or patio. Hang plants, lanterns, and flags for a festive look and if you have room, consider building some flower beds in front of your porch.
Adding these decorations can make your outdoor space more inviting and enjoyable. Plants and flowers can add color and life to your porch or patio, if the weather is awful, even artificial flowers in a hanging basket can work as an easy front porch decoration.
One of the simplest ways to style your porch is by adding potted plants. Place pots of flowers or herbs near the door, and make sure they're watered regularly.
A welcoming touch is always apparent when there are flowers and plants involved. Whether you choose realistic man-made plant material or are an expert at caring for the real deal, adding color and greenery is a cozy touch that's instantly inviting.
Go for splashes of color with reds and oranges or keep it soft and mellow with pastels like blue and lavender. If you have a front door in a very bold color, then stick with white flowers to keep things neat and simple.
5. Planters
Going along with flowers and plants are your choice of planters.
From window or railing boxes to hanging planters or on the ground planters, there are a variety of sizes and choices from which to choose to compliment your front porch decor theme. Make use of the size, shape and color of these planters to accentuate your porch.
If you want to make your own planter and you are open to DIY projects, check out this list of planters you can make yourself.
6. Accessories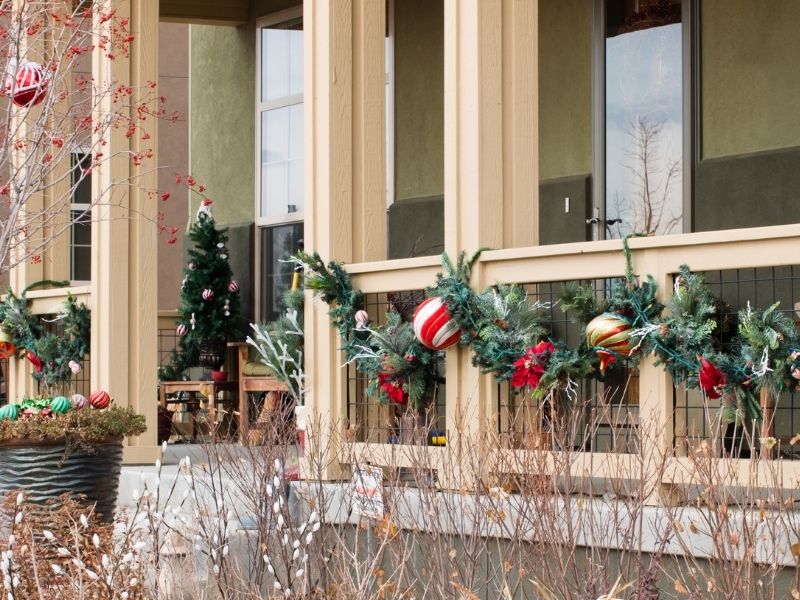 From pillows to flags and a welcome sign, add those little touches that will make your front porch decor unique.
Welcome signs, holiday flags, pillows and outdoor lighting can all easily be changed out with the seasons and add that welcoming touch that transforms a plain front porch into an inviting outdoor space.
Flags are a great way to show your patriotism or celebrate a special event. By adding these simple accessories, you can turn your porch or patio into an oasis.
As Christmas approaches, you can go all out for the holiday season with amazing Christmas front porch decorations such as wreaths, inflatables and porch railings ideas.
7. Decorate the floor: add a rug or a painted design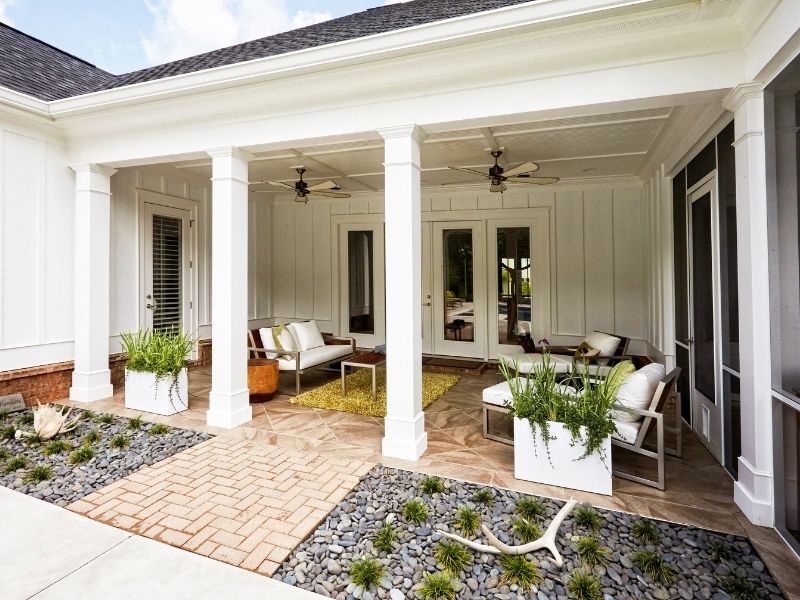 There are many ways to add personality and flair to your floors, from an outdoor rug to painted designs.
A rug can add color, pattern, and comfort to a room, while a painted design can really make a statement. If you're looking for a way to add some life to your flooring, consider one of these options.
Changing the flooring of your porch is a great way to improve even the smallest front porch.
8. Hang curtains: for shade and privacy
Hang curtains to block the sun and provide privacy.
Curtains can be hung in a variety of ways to provide shade or privacy.
A few options are to hang them from a rod, use tiebacks to hold them back, or hang them from a ceiling track.
When choosing curtains, opt for light-blocking fabric to keep the sun out during the summer and heavier fabric for privacy during the winter.
RELATED POST: 11 Amazing Porch Curtains You'll Love
9. Use lighting: to set the mood and welcome guests at night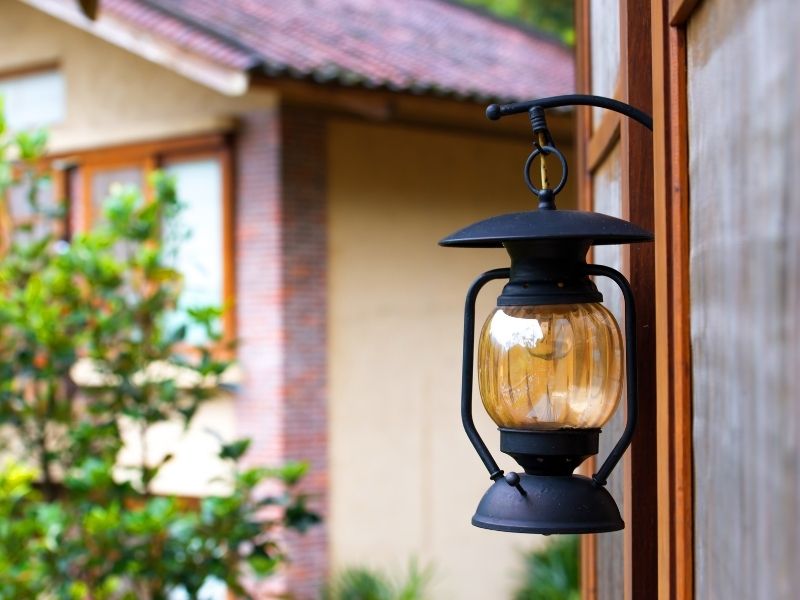 When you welcome guests into your home at night, the right lighting can set the mood and make them feel comfortable.
Lighting is also a great way to ensure your house numbers are visible at night.
For an inviting entrance, place a lamp on each side of your front door. You can also hang a pendant light or chandelier over the door to cast a warm glow on guests as they enter.
To create a romantic atmosphere, try installing dimmer switches on all of your lights. This will give you more control over the amount of light on the porch and allow you to create just the right mood for any occasion.
Outside Front Entry Decorating Ideas – Final Thoughts
We all want our guests to feel comfortable in our home, so we go to great lengths to make sure everything is just perfect. But what about the space where they actually spend time? A cozy and welcoming space can make all the difference. Here are some outside front entry decorating ideas to help you create one:
1. Start by clearing out any clutter. Guests don't want to feel like they're walking into a mess, so make sure the space is clean and organized.
2. Add some cozy accessories. Soft pillows, blankets, and throws can help create a warm and welcoming atmosphere.
3. Use bright colors sparingly. Too much color can be overwhelming, so stick to one or two bright accents instead of covering the whole space in them.
4. Make sure there's plenty of seating available.
If you're thinking about adding some color and life to your front porch, consider some of these easy decorating ideas. You can use plants, hanging baskets, benches, or even a brightly colored umbrella to brighten up your space. And if you're feeling adventurous, there are plenty of creative ways to decorate your porch without spending a penny!