Outdoor Porch Swing Ideas
The growing trend toward garden inspired rooms has given birth to the mass manufacture and commercial distribution of various kinds and makes of outdoor porch swings.
Do you and your family need a new place to relax after a stressful day? Then an outdoor porch swing just might be the answer.
There is no better way to enjoy the wonders nature can offer to your yard than setting up an outdoor swing.
Apart from providing aesthetic value, outdoor swings are a great way to kick back and take a breather.
If you don't have an outdoor porch swing yet, then you should read on.
In this article, we will talk about the basic things you need to consider before getting a swing of your own.
This post may contain affiliate links. Please read my Disclosure for more information
RELATED POSTS
How Much Is A Porch Swing?
When it comes to pricing, most outdoor swings cost around, so they are relatively affordable, especially when you place it against the added curb appeal and enjoyment you will get from it.
You can also consider building your own porch swing using plans such as these ones from Ana White.
The Best Material for Your Porch Swing
The most common materials used in the making of porch swings are wicker and wood.
This is because they contribute to the earthy and nature-y feel that outdoor porch swings bring to every home.
Porch swings may also be made of steel or synthetic materials.
But they don't have the same air of calm as when they are made of organic items.
When you're buying an outdoor porch swing, consider the following:
Look
Design
Sturdiness
Ability to withstand your local climate
How Big Should Your Porch Swing Be?
Outdoor swings are usually sized three feet, four feet or five feet. The most popular size is the four-foot glider, which can easily accommodate two adults — best area for afternoon conversations.
The five foot gliders normally can carry two adults and one kid, and are best for households with families.
For people who live alone, however, the smaller three-foot glider will do fine, especially if there isn't much space.
Tips For Choosing The Best Porch Swing
When choosing an outdoor swing, choose one that offers the best support; that is, one that will not conk out on you after just a few years.
If you're thinking of hanging the swing on your porch, see to it that the latch where its roof supports will be attached is sturdy.
Another option is the kind of swing that comes with its own stand although they take up more space and are best suited to decks or patios.
Installing Your Porch Swing
An outdoor swing in the front porch means you'll have to bolt its beams to the ceiling.
You must do this right or else it will come crashing down and injure its load.
If you're inexperienced when it comes to ceiling carpentry, then you should just hire a professional to do it.
If you're into DIY, then you should remember that when you are setting up your outdoor swing, you should drill through the support beams and put eyebolts to fasten the screws and bolt nuts with.
Without them, you will not be able to securely install the outdoor swing and eventually cause injury.
Another tip is to hang the swing around 17 to 18 inches away from the floor, so that anybody who rides it will be able to rock using his or her feet.
Allow at least two feet of space at the back of the swing and 18 inches at the sides so you can comfortably rock. Otherwise, your outdoor swing will be just another piece of furniture that doesn't move.
Finally, make sure that the support beams and the rope you will use the hang the swing is thick enough and sturdily fastened enough to support the weight of two to three people, depending on what type of outdoor swing you got.
Different Types Of Porch Swing
There are many kinds and makes of outdoor swings.
Thus, if you're thinking of getting one for your porch, you don't need to look around so much because there is surely a type that will fit your home's feel.
Whether you live in a huge mansion or reside in a quaint bungalow, outdoor swing manufacturers are one step ahead and have already come up with a design that will fit your location.
The different types of porch swing include:
Farmhouse or Nantucket
Adirondack
Modern
Wicker
Farmhouse Porch Swing Ideas
Farmhouse porch swings are nearly always made of wood as that is the traditional material used for porch swings. They are often called Nantucket porch swings and are most common type of outdoor porch swing that you will find.
They typically hang from the porch ceiling so they are protected from the elements and are a permanent fixture.
You can keep your farmhouse porch swing a natural wood color or paint it white or cream.
RELATED POST: The Best Front Porch Paint Colors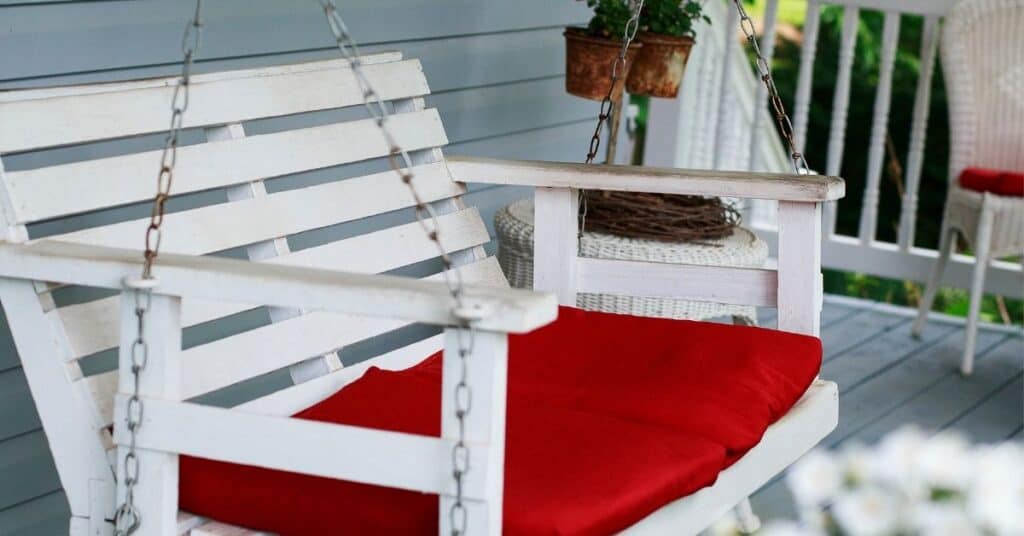 What is the best wood for a Farmhouseporch swing?
The more popular types of wood that are used for porch swings are oak, teak, pine, and maple. Each of these wood types vary in terms of durability and strength.
The more durable the wood, you can expect that the outdoor swing is relatively expensive.
The sturdiest is probably oak, but it can also be very heavy.
If you're going for something that is easy to move around but is still durable, you might want to get an outdoor porch swing set that is made of cedar.
Despite its weight, it is very resistant wear and decay. Pine is also a good choice, but it can dent easily.
Adirondack Porch Swing Ideas
You are likely familiar with the classic Adirondack chairs (known as Muskoka chairs in Canada).
This porch swing version typically features two Adirondack chairs attached and hanging from the porch ceiling. Adirondack chairs are famous for coming in all different kinds of colors like the ones pictured.
They make a very comfortable porch swing for any climate and are great for lounging in your porch with a drink in the evenings.
Modern Porch Swing Ideas
When it comes to your modern porch swing, the world is your oyster. There are all different styles from single hanging comfy chairs to all metal versions which are great for wet climates.
There are even hammock/swing hybrids like this version below:
Wicker Outdoor Swings
Wicker patio furniture is modern looking and durable.
You can get it in all different kinds of sizes and configuration and a wicker porch swing is great for both modern and farmhouse style houses.
I love hanging porch swings like the one below.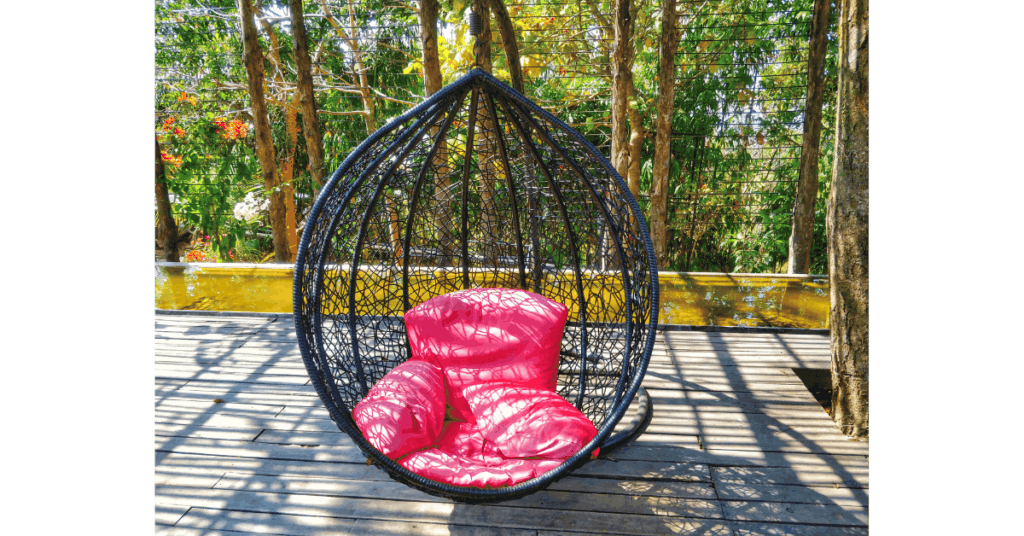 Choosing Outdoor Swing Cushions
When you're buying elegant cushions to complement and complete the look you want in your outdoor entertaining area, your porch swing in particular, you should pay close attention to detail.
How you choose the cushions for your outdoor swing should reflect the mood the area carries and reflect your personal preferences. Quality is a given, of course.
Apart from the cushions aesthetic value, since you're going to put them outdoors, you have to choose cushions that do not easy subject to weather induced wear and tear.
It would be best to get cushions that are easily drainable, so that they are easily cleaned in the event of rain or if they just get wet.
Weather resistant outdoor furniture cushions are available in most home stores
Outdoor swings are synonymous with relaxing, quiet afternoons.
You want cushions that will enhance your porch swinging moment, not ruin the ambience for you.
Caring for your Swing
The most important thing you should do is to inspect its joints regularly to ensure that it is still in place and will not suddenly loosen and injure its load.
If you notice a wobbly frame, have it fixed immediately.
Most outdoor swings are maintenance free.
If it's made of wood, though, you should be careful not to get it wet or it might decay or warp. In this case, you should invest in a good swing cover so that it is resistant to weather-related wear and tear.
Covers For Your Outdoor Swing
Depending on your climate you may only need covers for your outdoor swing during the winter months or when rain is forecast.
In other places you might want to consider a quality swing cover so that you don't have to remove the cushions every evening.
If you do want some patio storage for cushions, make sure to read this list of 7 Amazing Porch Storage Ideas
Porch Swing Ideas – Final Thoughts
Need to shade yourself from the sweltering heat outside but don't want to be cooped up inside the house?
Consider getting a canopy swing for your porch. An outdoor canopy swing not only gives you a place to relax even during the hottest of days, but it can also serve as a good place to entertain friends and as a thinking spot.
Whatever it is you're doing, and whatever the season, outdoor canopy swings are sure to fulfill your craving for rest and relaxation.
You don't need to go out of town to get a breezy and earthy feeling. Simply set up an outdoor canopy swing on your patio, kick your feet up, bring a good novel, and you're good to go.
Outdoor canopy swings are great pieces of furniture that could serve as wonderful, and functional, additions to your home.
If you take a look at most suburban homes featured on television and in films, you will notice that almost all of them have outdoor canopy swings.