The Best Porch Paint Colors
No doubt, when it comes to porch paint colors, white is the most popular color, and this is followed by closely by sky blue (as well as beige) and then navy. Sky blue and muted greens are also very popular as it ties in with the nature around the front porch.
In this article, I'm going to share the most popular colors and shades for front porches. We'll also look at what factors you need to consider when choosing a paint color for your specific front porch.
Please note that this article contains affiliate links; you can see my full disclosure for more information.
RELATED POSTS
Should you do the same color on the porch walls as the porch pillars?
This is completely up to you. The trend is towards using a different color for the front door, pillars, floor and walls, especially if you have a larger porch.
Your porch color combination is going to set the tone for your whole house so you will want to be bang on with your choices.
Regardless of the colors you choose, you need to make sure that they go well together.
If you use 2 different colors, I would recommend that they have a large contrast (i.e. one is much lighter than the other. One could be white and the other navy.
Or a light gray and dark gray. One could be white and the other a muted green. You get the idea.
There is no right or wrong here; it's a matter of preference…and balance.
Choosing Front Porch Paint Colours
Before you decide on what colour to paint your front porch, you need to step outside and really take in your house, its surroundings and your home's orientation.
The Landscaping
Look for colors that complement the plants and trees around your porch.
Also take into account the colour of the brickwork and siding on your home as you want your porch.
Your paint colours should complement these pre-existing features and continue the flow of your home's architecture.
Your Home's Orientation
You can go much bolder with colors if you home faces North.
South facing porches will look best with bright, light colours like white, pale blue and beige.
If your home looks over ocean, a blue color will be reflected nicely in the sun while a similar colour could look much darker in the suburbs
The Size of Your Porch
The larger the porch, the more flamboyant you can go with your paint choices. A smaller porch works well with light colours and a pop of colour in the front door or ceiling if you are so inclined.
Porch Color Combinations That Work Great
There are certain classic porch color combinations that always look fantastic on a home's exterior. If you are really stuck for ideas, consider one of these options asa starting point:
Navy and Beige
Muted Blue and Light Gray
Cream and Dark Brown
Red and Navy
Sky Blue and White
Pink and white (love pink porches? Check out these inspirational pictures and paint colors)
Dark Gray and White
Help With Porch Color Combinations

You can buy the full color wheels for both Sherwin Williams and Benjamin Moore.
It's so much easier when you have the full color wheels and can see all of these in your own home.
Click below to check them out.
The Top Front Porch Paint Colors
Best shades of white for Painting Your Porch
Why is white the most popular color for front porch painting?
The answer is simple. It's lighter and brighter so it makes your space look larger and cheerier.
White porch pillars and walls are also neutral, so they go with virtually any type of flooring, front door and porch roof. A white porch also means you can go to town with wreaths and decorations without worrying about clashing colors.
White also looks clean and modern.
It goes well with almost every style of home from traditional to modern.
Creams and off whites are also popular, but the whiter you go the easier it is to coordinate.
If you are planning to sell your house in the next few years, I'd recommend you stick with white or a similar light colour as it is the most popular and will make your space look larger.
Which are the best white paints for your porch?
Even if you choose to go bold for your walls and front door, you may want to consider white for your trim and pillars.
When it comes to whites, there is a myriad of options.
Yes, if you go to the paint store, you will quickly become overwhelmed with the sheer options you have for white paints.
No paint is a perfect white, all of have undertones of some sort – a hint of gray or a hint of yellow or a hint of beige or a hint of something.
But if I were to choose the perfect exterior white or off-white these would be my selections.
For Sherwin Williams, I think the best white paint for your porch is Pure White (this is great for pillars and trim) or Extra White.
Alabaster and Casa Blanca are great if you don't want to go bright white. Summer white and Polar Bear are also great choices if you prefer an off-white color.
For Benjamin Moore, I like White Diamond and Frostine.
When you look at these colors in isolation, they will all look pretty white.
As you look at the chart to the right where you can see them all together, you'll see the subtle differences.
But, do bear in mind you only need to make one selection…and when it's on your porch, you won't see it next to the other whites. So, choose what you love…and what goes best with your other front porch paint colors.
Best White Porch Paint Colors
Sherwin Williams
Pure White
Alabaster
Casa Blanca
Ice Cube
Snowbound
Extra White
Benjamin Williams
White Diamond
Frostine
Distant GraY
Best Gray Shades For Painting Your Porch
After white, gray is the most popular porch paint colour. It is a modern neutral that looks great with many different brick colours.
A great porch colour combination is to use two different shades of gray, one much lighter than the other for your porch.
As you can see there are also many grays, some with warmer tones, some with cooler ones.
Here are some of my favorite grays:
Light grays:
Sherwin Williams: Modern Gray,
Benjamin Moore: Gray Cashmere, Edgecomb Gray
Darker grays:
Sherwin Williams: Repose Gray, Anew Gray, Colonnade Gray, Passive
Benjamin Moore: Coventry Gray, Stonington Gray
The Best Beige Paint Porch Colors
A lot of people like to go beige or greige for their porch because it blends in well with nature and most homes are constructed with a neutral colour brick or siding.
Depending on your home's architecture, beige might be the best choice for you for the main parts of your porch with a pop of color elsewhere (think front door) for some excitement.
Here are my top beige and neutral colors for your front porch:
Sherwin Williams: Wool Skein, Muslin, Rushing River, Kilem Beige
Benjamin Moore: Manchester Tan, Muslin, Sag Habour Gray
The Best Shades of Blue and Navy for Your Front Porch
Navy is great because it goes well most colours of home exterior. It also goes well with white and grays. It is a classic porch colour that looks extinguished and classy on every home.
Best shades of navy for your front porch:
Sherwin Williams: In The Navy, Indigo Batik, Rainstorm, Outerspace
Benjamin Moore: Hale Navy, Van Deusen Blue, Gentleman's GrayS
Sky blue colors are a perennial favorite for porch roofs, especially in the Southern USA.
Here are my top picks:
Sherwin Williams Bluebell
Sherwin Williams Byte Blue
Benjamin Moore Billowy Down
Benjamin Moore Tear Drop
Sherwin Williams Skyfall
Best Porch Paint Colors For A Beach House
If you're looking for a coastal look for your porch – either for your home near the beach or to create an oasis, check out these amazing aquas, teals, turquoises, coastal blues and greenish blue hues.
Sherwin Williams Swimming
Benjamin Moore Palladium Blue
Sherwin Williams Surfin'
Sherwin Williams Waterscape
Benjamin Moore At Sea
Sherwin Williams Mariner
Sherwin Williams Fountain
Benjamin Moore Aegen Teal
Sherwin Williams Meander Blue
Benjamin Moore Innocence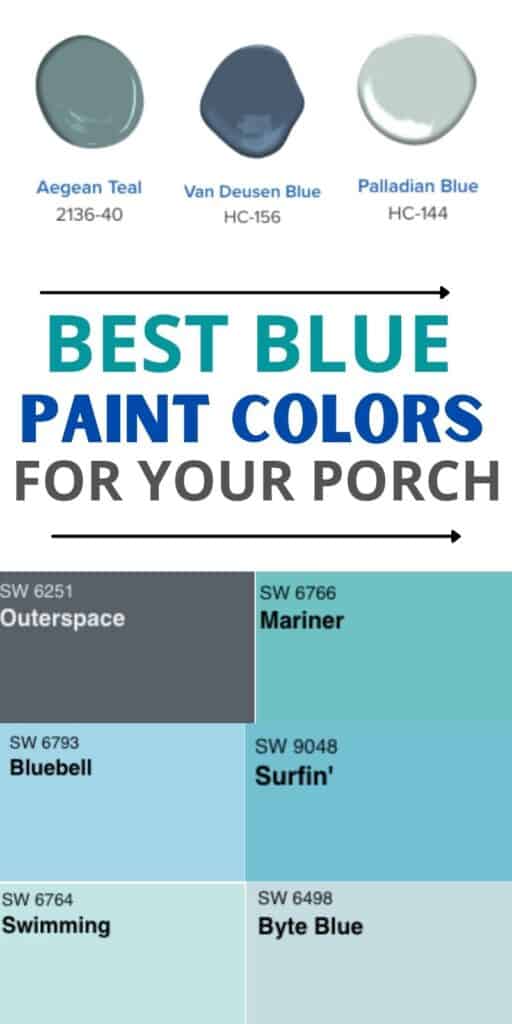 The Best Front Porch Paint Colours – Final Thoughts
As you can see, there are many options for painting your front porch.
When it comes to paint, the possibilities are endless and the great news is, if you decide you hate the color, you can always change it later.
You can't go wrong with classic porch colours such as white, sky blue, navy and gray.
More Porch Decorating Ideas
27 Inexpensive Porch Ceiling Ideas
Small Front Porch Decorating Ideas On A Budget