I love the look of clear glass in a front door because of all the light it lets in but since moving to a busy street, I've been looking for some front door window covering ideas that look cute and offer some privacy.
Whether you are looking for a window covering to block the light or block nosy neighbours from seeing inside, there are tons of cute options for all kinds of doors.
Obviously, if you are in the market for a new door, you can opt for a simple wooden door with no windows or a stain glass design that allows light but stops people from seeing in.
But what if a new door isn't an option right now? Lots of builder grade doors in my area consist of a half door of clear glass that makes privacy a real option. Luckily there are some great front door window covering ideas out there that you can try.
Read on for my top picks that suit all budgets.
This post contains affiliate links. Please read my Disclosure for more information.
RELATED POSTS
What can I use to cover my front door window?
Think beyond curtains when it comes to your front door window. While drapes are great for your regular windows, on a front door they can be over powering or get caught in the hinges.
If you do really like the idea of a floaty curtain, then you there are options that will look amazing on your front door without any issues, below you will find some unique ideas that you might not have thought of.
10 Genius Front Door Window Covering Ideas
Below you will find 10 glass front door privacy solutions that will make your home look stylish and bright without everybody seeing inside your home.
None of the door window coverings below are expensive, they range from under $10 to around $50 which is a lot less than shelling out $1000 for a new door or a few hundred for a new glass insert that you can't see through.
1.Window Film
Adding pretty window cling is by far the cheapest way to cover your front door window and still let the light in. You can buy a roll of beautiful window film on Amazon for less than $10.
You can choose from lots of different designs to suit your home's architecture. The other great thing about front door window film is that you can remove it easily so it's perfect for rental properties or as a temporary solution until you change doors.
One way privacy window film is perfect if you are wondering what you can put on your windows so you can see out but no one can see in. It has a silver reflective look from the outside so it still looks nice.
2.Lace Window Treatments
Here is a really simple DIY that looks beautiful, especially in older homes. You can create lace panels on your front door window using lace and cornstarch.
Annabel Vita has a great tutorial here.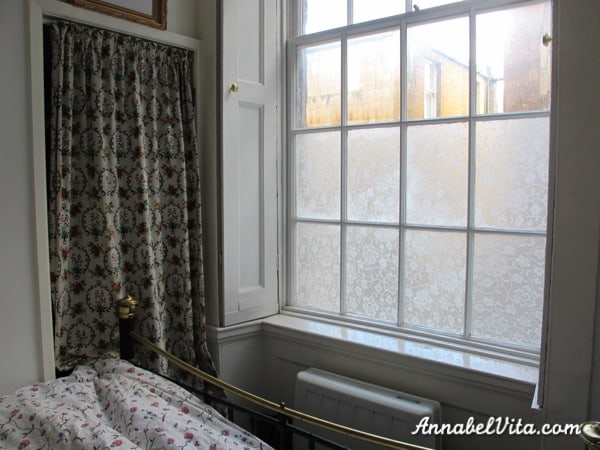 3. Bamboo Shades
Inexpensive bamboo shades look really nice and can be installed in minutes. These ones from Amazon come in lots of different lengths and widths to fit most front door windows.

4. French Door Curtain
One simple French door panel can block out the light and elevate your front door space. Choose a neutral color for a subdued effect or something bright for a pop of color. Small curtains like these are the perfect window treatments for doors with half glass.
You can purchase French door panels for your front door for under $20 making this a really good budget option.

5. Hook and Loop Panel
Although you can buy these panels online, if you are somewhat handy, you could easily DIY these front door window coverings in an afternoon.
Simply attach some adhesive hook and loop to a piece of fabric and to the door for a quick curtain that you can switch out easily.

<6. Macrame Curtains
These take me back to my 70s and 80s childhood days. Macrame is back and if you fancy a different kind of window covering for your front door, you can't go wrong with a simple beaded curtain like this one.
7. Tie-Up Shades
I like blinds that roll up at the top because you can either have them all the way up or down and don't lose the light if you want it.
This is especially important to me as I live in Canada and some days it is so dark that I need all the light that I can get.
These tie-up shades come in a few different colors to suit your decor.

8. Sheer Curtains
Sheer curtains are the obvious choice if you want some privacy but still want to allow the light in through your window.
One tip is to make sure you get curtains that attach at the top and bottom of your window (like the ones pictured), otherwise you will find that they don't stay in place and it will get annoying.
9. Honeycomb Shades
Simple pleated shades are a good option for the budget-conscious.
You can buy these kinds of shades online and don't need to worry about getting a custom size for your door. Many options, such as these shades, can be trimmed at home to fit your window.

10. Faux Stain Glass
If you really like the look of a stain glass panel on your front door but can't afford to make the switch just yet, you can try the look on for size with a stain glass decal that you peel and stick to your existing glass window.
Considering that a stain glass insert will run you at around $200 for a half door, the savings with a stain glass decal are huge.

What About Front Door Side Window Coverings?
If your front door has side lights, then you will have to address the privacy issue there too. I like using the faux stain glass or window cling for side lights as the whole point of those extra windows is to let extra light in.
Blocking the whole window will possibly make your home too dark but if you want to use fabric, consider some nice side drapes that you can tie back during the winter when you need more light in your house.
2 Extra Back Door Window Covering Ideas
If you have privacy issues in the back of your house, the ideas above will work on most back doors. You can also consider a few additional options that work well, especially for larger patio doors.
Beaded Curtain
A full beaded curtain is good if you want a temporary solution and are more interested in keeping bugs out than anything else. A beaded curtain won't work that well in a hot climate if you want to keep the door open in the summer.
Vertical Slat Blinds
These blinds are cost-effective but they can honestly be a bit of a pain. If you really want full coverage on a patio door, they are vertical slat blinds are a good solution though.
More Front Door Decorating Ideas
DIY Easter Wreaths To Get Your Home Ready For Spring
Pumpkin Door Decorations For Fall
10 Fall Decorating Ideas For Outside