There is nothing better than lounging around on your porch on a summer evening but sometimes you look up and it doesn't look so pretty. If your porch needs a refresh, check out this list of inexpensive porch ceiling ideas will take your house from dreary to wow in no time!
You might think that you don't need to worry about your porch ceiling but you would be surprised at how visible it is from different angles outside your house, plus you need it to be in good shape to avoid leaks and wildlife issues.
A great porch ceiling can make your space look larger and more refined. The wrong ceiling choice can cause a small porch to look darker and even small.
If you are putting in a brand new porch, make sure to consider my 14 Amazing Front Porch Roof Ideas which will help you decide which of my patio ceiling ideas make sense for your house aesthetic.
This post contains affiliate links. Please read my Disclosure for more information.
RELATED POSTS
What is the best material for a porch ceiling?
The best materials for your porch ceiling will depend on the climate where you live and the look you are going for.
In general, your top choices are:
Plywood – cheap and easy to install. Plus you can paint or stain it.
Beadboard – Beautiful traditional look that is easy to maintain
Vinyl – Cheap and low maintenance
The Best Inexpensive Porch Ceiling Ideas
If you do need to redo your front porch ceiling or you are installing a completely new porch, the good news is that you don't need to spend a ton.
There are a ton of budget options for making your ceiling look awesome without breaking the bank.
1. Plywood Porch Ceiling
This is the top choice for cheap porch ceiling ideas Worldwide. Plywood is much cheaper than wood and given the increase in lumbar the last year or so, many people are looking for alternatives.
Plywood is easy to install and can be painted or stained just like a traditional wood ceiling. If you are painting it, I recommend using a moisture resistant paint such as Exterior Watertite.
2. Beadboard Porch Ceiling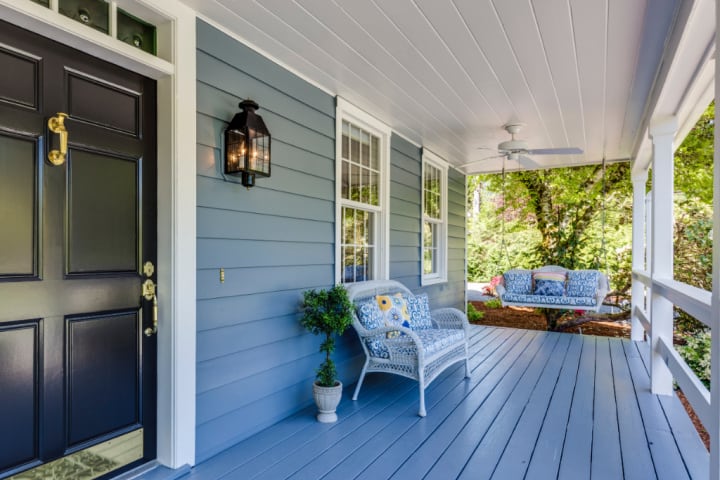 Beadboard always looks amazing inside and outside the home and it is one of my favorite inexpensive porch ceiling ideas.
A lot of people wonder if beadboard can be used outside and that's because we classically think of it as an interior design feature.
The good news – although beadboard looks like wood panelling, exterior beadboard is normally vinyl to protect against the elements.
Using vinyl beadboard soffit for porch ceilings is a great way to add style and performance in an outdoor environment.
This traditional look works great for older homes or people who love the farmhouse look.
Which direction should beadboard run on ceiling?
For the best look, you want your beadboard to run along the ceiling lengthwise. Even if your porch is square, you want it to run along the side of your house to create a longer, more streamlined look.
3. Tongue and Groove (T & G Ceiling)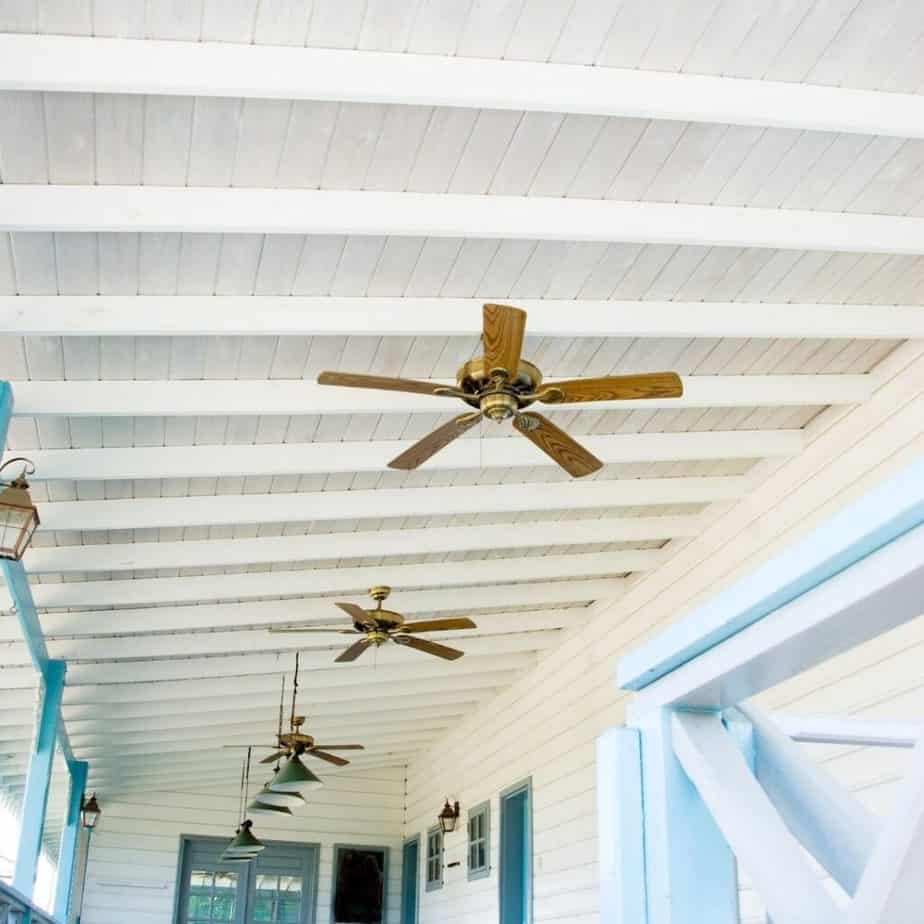 What is T&G ceiling? T & G or tongue and groove is a really inexpensive way to panel your ceiling. Adjoining pieced of wood or material fit together for easy installation.
4. Natural Wood Ceiling
Cottages and farmhouses look great with a rustic natural wood ceiling. This doesn't work for all home styles but it looks great if your house is surrounded by nature.
Add to this look by using unpainted wooden porch railings and neutral color furnishings.
RELATED: Front Porch Railing Ideas For Curb Appeal
Can I put laminate flooring on my ceiling?
You can but you would likely be better and cheaper choosing a different ceiling option such as vinyl plank (more waterproof) or even natural wood.
5. Stained Porch Ceiling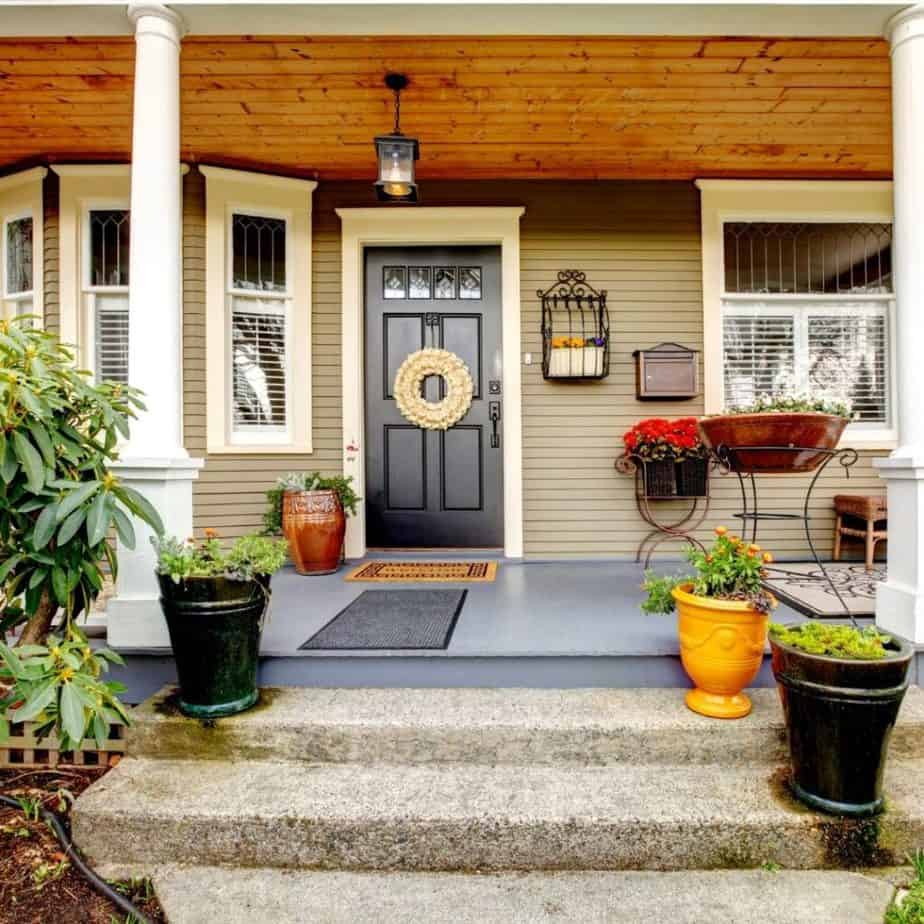 A really budget friendly way to enhance your front porch ceiling is to to stain wood.
A Stained wood porch ceiling looks really traditional and classy and is very cheap to pull off.
A dark walnut or mahogany color will elevate your front porch without you having to worry about matching the trim or front door color which is often a concern.
What kind of wood should I use for a porch ceiling?
You want a hardwearing wood that will stand up to moisture and also allow for painting or staining. Pine, cedar and teak are all good options.
6. Vinyl Porch Ceiling
Vinyl whether as beadboard panelling or vinyl plank is a cost-effective porch ceiling idea although it may not be suitable for all climates.
Bear in mind that vinyl cannot withstand heavy exposure to heat or water which means that it may warp over time.
If you do decide to go for vinyl, a vinyl slab porch looks very modern and bright.
7. Glass Porch Ceiling
This is a really popular look in the UK for back porches known as conservatories. A glass ceiling maximizes your light and really makes your porch part of the outdoors.
It is great for climates that need all the heat they can get with shelter from the wind as it creates a really nice sunroom.
Another advantage of this kind of front porch ceiling is that you can grow awesome tropical plants with the greenhouse effect it creates.
8. Outdoor Patio Ceiling Panels
If you love the look of panelling but vinyl is not suitable for your region, consider Fiber Cement Beadboard panels.
Fiber cement is more expensive than vinyl but more suited to harsh climates and it offers outdoor ceiling paneling that is resistant to cracking, warping, moisture and fire, eliminating the problems often faced with using vinyl outdoors.
9. Exposed Beam Porch Ceiling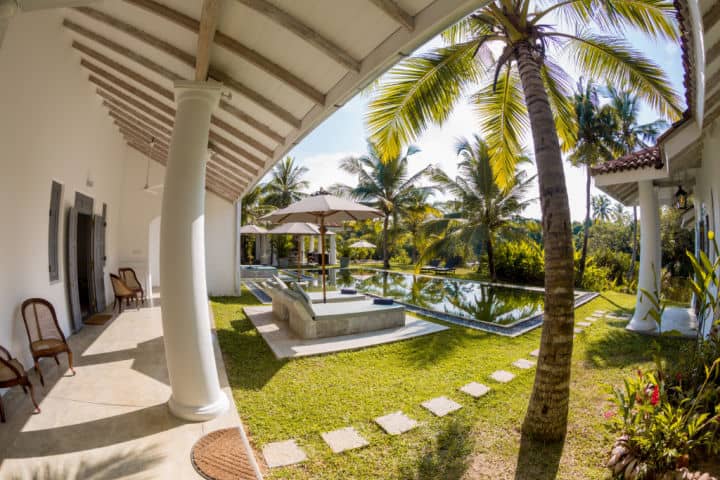 Dark wood beams against a white porch ceiling look very tropical and are very popular in California and the South West. This is a great look for a villa or hacienda style home.
10. Corrugated Metal Ceiling
This is a really cheap option if you like a more industrial look. A tin ceiling is extremely hard wearing and suitable for all climates but it lacks the elegance of some of the other options.
11. No Porch Ceiling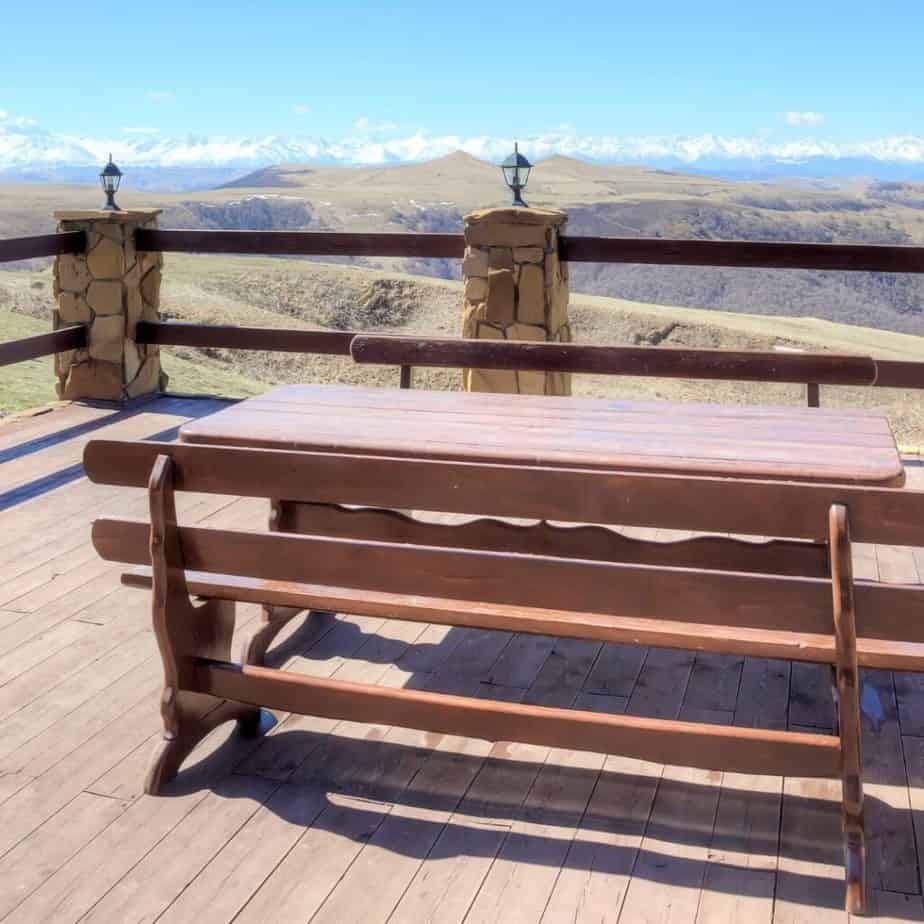 I have to include this option as it is by far the cheapest but by no means the best for many climates. You can skip the ceiling completely and have an open air porch.
It will mean that you cannot use your porch in bad weather but it will create a beautiful open area for sitting in the sun.
12. Bamboo Porch Ceiling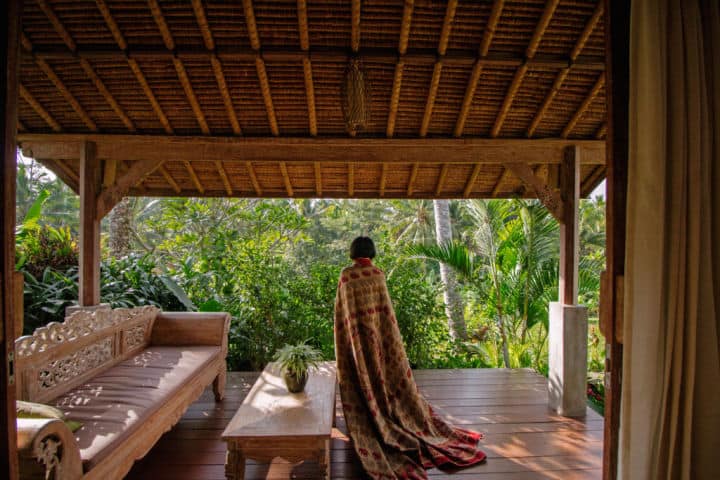 Popular in Asia, a bamboo porch ceiling can be fashioned into different designs and looks gorgeous in an outdoor verandah. Make sure to look for sustainable bamboo porch ceiling tiles.
13. Composite Ceiling
For a really low maintenance ceiling that will last for years, try composite panels. Composite is moisture resistant is a great outdoor porch ceiling option.
14. Coffered Porch Ceiling
A coffered ceiling has many recessed areas formed with beams or cut outs.
This is the height of luxury and will elevate your home to the next level of elegance. Nothing screams opulence quite like a beautiful coffered ceiling, indoors or out.
15. Vaulted Ceiling
A vaulted or cathedral ceiling is a great way to really give your porch an airy feel and it even works in a small space.
Vaulted ceilings slope from the the point of the ceiling to the walls or pillars of your porch.
16. Tray Ceiling
A tray ceiling is a porch ceiling that has a recessed section. Typically, the recessed portion is at least 6 inches deep and is centered on the porch. A light fixture in the middle completes the look.
17. Domed Porch Ceiling
A domed ceiling is a great option for giving your porch a sense of space and for hanging statement light fixtures.
Exposed beams look really good in a domed ceiling because they give the look of a garden gazebo.
18. Fabric Covered Porch

For an inexpensive porch ceiling option that you need to bring in during the colder months, consider a canvas roof for your porch.
These kinds of ceilings look really nice and will provide shade and some protection from the elements but will not withstand high winds or storms.
19. Open Pergola Ceiling
Another option for a porch roof that is not completely closed in is to use wooden beams for a pergola garden feel.
You can build this kind of ceiling using decking materials from a big box store.
20. Thatched Porch Ceiling
Thatched roofs are common in many parts of the World and were at one time the main kinds of roofs in places like the UK.
As there is no gutter to remove water with a thatched roof, your porch needs to have a very steep pitch to carry water away.
If thatching is something your are interested in, I highly recommend checking out this expert article on everything you need to know about a thatched porch ceiling.
21.Cape Reed Ceiling Board Panels
If you are not quite ready for a true thatched roof but are interested in the look, consider a modern thatched reed ceiling made from panels.
Cape Reed tiles are made from fiber glass composites so they are easy to install and maintain.
This is the perfect look if you like a tiki bar feel. The thatched panels can be attached to your plywood ceiling without any hassle.
22. Open Ceiling
If you like the rustic cabin look, consider a completely open ceiling exposing all the beams and workings of your porch ceiling.
24. Vine Ceiling
If you love the natural look and have a bit of patience, consider a ceiling covered in vines. The ivy vines will quickly grow along open beams to create a natural canopy.
24. Lattice Ceiling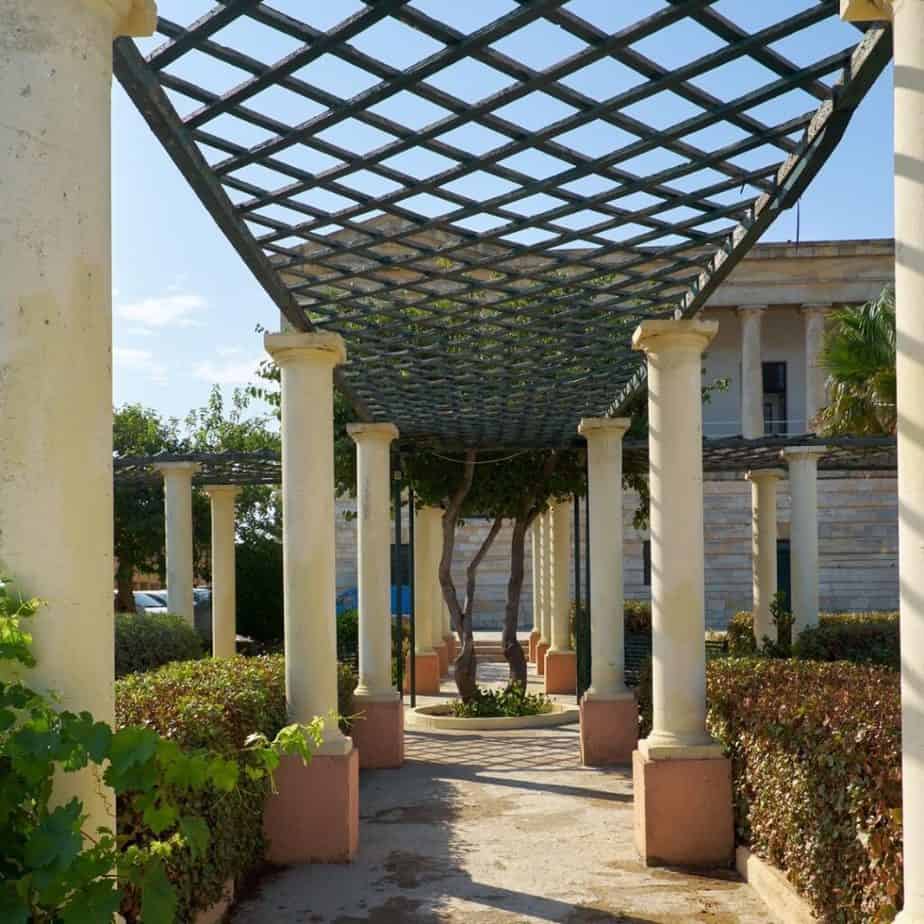 Lattice is really cheap to buy and super easy to install. It won't offer much protection from the weather not much shade but if your goal is a defined outdoor space on a budget, lattice is an awesome choice.
Lattice looks really pretty and comes in large panels that you can nail to existing pillars easily.
25. Wood Pallet Porch
One of my favorite outdoor porch ceiling ideas is to use wood pallets.
This is a cute and super cheap porch ceiling solution that is easy to do and looks amazing. You can buy pallets or you may get lucky and get them for free which will make your project even cheaper.
26. Aluminum Panelling
This is the best front porch ceiling type for harsh climates. I live in Canada and my porch ceiling (pictured) is made of hardwearing aluminum tongue and groove that has lasted for over 20 years already.
This kind of front porch ceiling is perfect if you are worried about rodents and other animals eating through a wooden porch ceiling and building a nest.
27. Painted Porch Ceilings
The easiest and most inexpensive porch ceiling is to paint a basic ceiling made from wood or plywood. You can purchase special porch paint that will stand up to any weather and not peel or let in moisture.
I like the special Valspa porch paint and have used it on both my porch ceiling and floor.
Looking for porch ceiling color ideas?
Cream and beige make great choices as does matching your porch ceiling to the trim of your house. Dark brown is also a really nice choice as it can look like a wood stain.
The most popular color for painting your porch is beyond a doubt a deep blue color.
Sky Blue Porch Ceiling
In the Southern USA, traditionally porch ceilings were painted sky blue. This stems from Gullah folklore from New Orleans.
The deep blue that many people used was known as Haint Blue (haint being the creole word for ghost)
It was believed that ghosts could not cross water so painting the porch ceiling blue would fool the ghosts into thinking they could not pass into the house.
There is another reason for painting your porch ceiling blue. A very pale blue will repel wasps and other bugs as the color isn't registered as vividly in the UV spectrum. Conversely bright white and yellow will attract bugs.
Additionally, a light sky blue mimics the natural sky and makes a covered porch feel open. It can also help to extend the feeling for having the outdoors inside your home.
Benjamin Moore Mystical Blue is the perfect shade of "Haint Blue" for your porch ceiling.
Do Porch Ceilings Need Ventilation?
Just like your home's roof, your porch roof does require good ventilation. You need to make sure the ceiling is well-ventilated to avoid leaks and mold issues.
Final Thoughts On Inexpensive Porch Ceiling Ideas
There are many different outdoor porch ceiling ideas to suit every budget and decorating style. Whether you want a cozy cabin or a modern farmhouse look, there are easy ceiling ideas for everyone.
More Front Porch Decorating Ideas
Front Porch Decorating Ideas For Christmas