One of the best ways to add additional living space to your home is to add a screened in porch to your front or back yard. An enclosed porch is perfect for all kinds of weather but it can be pricey. Check out the screen porch ideas on a budget below.
A screened porch lets you enjoy time in the fresh air without worrying about bugs annoying you.
They can also offer some sun protection, which is nice for hotter climates.
Another great thing about many screened porches is that they offer protection from the elements so you can put more indoor furniture and belongings outside.
It's relatively cheap to add a screen to an existing porch so this is perfect if you are on a budget. Your costs will largely depend on the size of your space and the type of screen you choose.
Bear in mind that you might be able to recoup the costs of this project when you sell your home.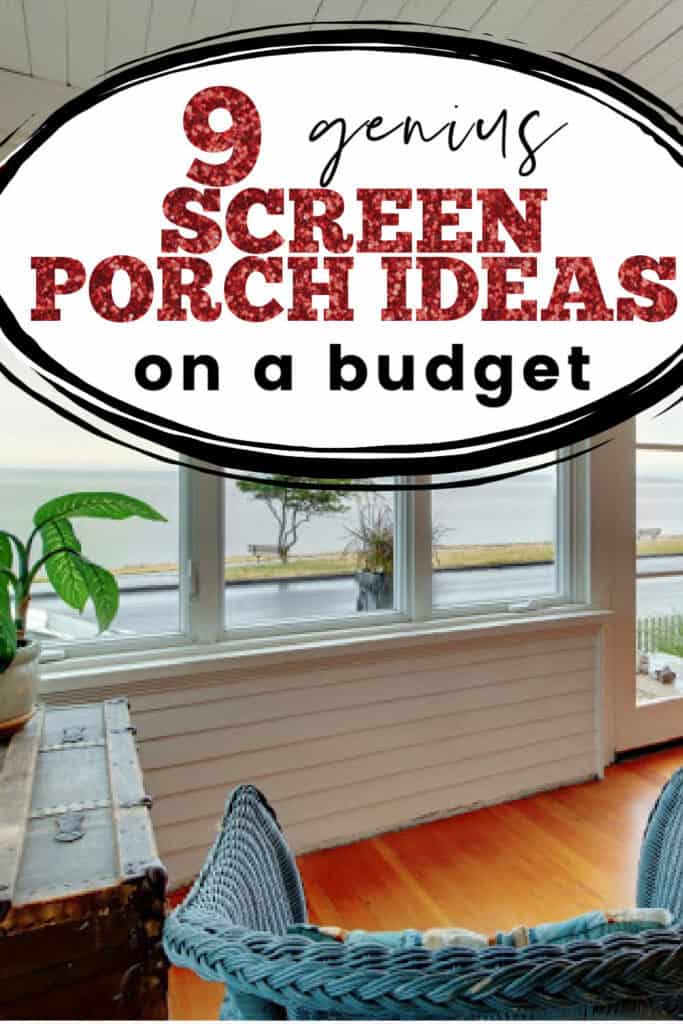 RELATED POSTS
Is Screening in your porch worth the money?
Aside from the joy that you will get from enjoying your porch 3 seasons of the year, there is a great ROI in creating a screened porch.
Most homeowners get an estimated 50-75% of the cost back in an increase in their home's resale value.
A screened in porch feels more like an additional room in the house that a open porch. You can use this extra square footage as a playroom, office, rec room or sunroom.
What is the average cost to enclose a porch?
The cost to screen in your porch really depends on the materials you use and the size of your existing porch.
Screen porch ideas on a budget include using mesh screen, drapes and blinds.
More expensive options would involve windows, shutters and sliding doors. The more expensive options are more permanent and would create a more year-round living space in your home.
Screen mesh is the cheapest way to screen in your porch, you can DIY it using mesh from a store like The Home Depot. Mesh comes in at around $30-60 per 100 ft.
If you want a retractable screen with mesh, expect your costs to rise exponentially.
The downside to a mesh screen is that over time is tends to sag and can be ripped easily. I have a screened in gazebo in my home and after one winter there were many tears and holes in the screen.
Screen mesh is not overly expensive to replace and repair but it is annoying.
Screen Porch Ideas On A Budget
If you are on a tight budget, the most cost-effective ways to screen in your porch are:
Curtains/drapes
Mesh Screen
Awning 
Retractable Screens
How To Build A Cheap Screened In Porch
DIYing a screen porch is not overly hard and beginners can typically complete the job in half a day. This step by step tutorial will guide you through this project.
Screen Porch Ideas
1. Mesh Screen
2. Outdoor Solar Screen
Retractable blinds are the perfect solution to creating an outdoor space that you can use more much of the year. These ones  from Blinds Galore are a great option.
3. Drapes
Using curtains is the cheapest and easiest way to DIY your screened in porch.
You can easily hang drapes yourself which will provide shade from the sun and wind. Bear in mind that drapes are not the best solution if your area is prone to bugs such as mosquitos.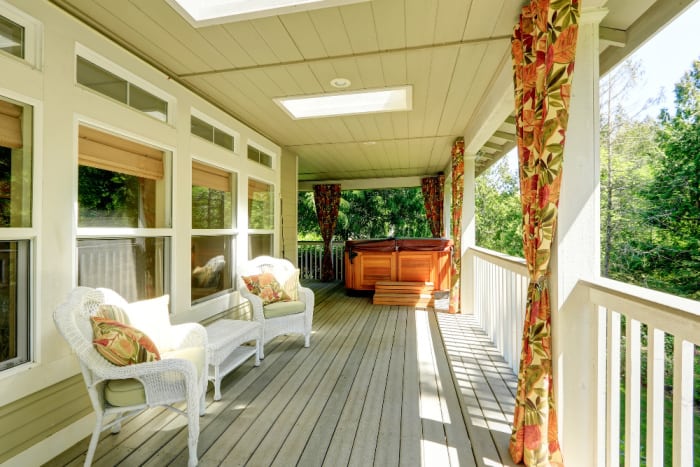 4. Awning
If you don't fancy using a mesh screen but want something more permanent than curtains, consider getting a tractable awning.
These are great at providing shade and some rain cover and you can get electronic versions that work at the push of a button.  They also come in different colors and patterns to suit your style.
If you live in an area prone to hurricanes, be aware that your awning needs to be fully retracted in high winds to avoid damage.
5. Porch with windows
For an all- year round solution, consider framing and installing windows in your porch.
This option is the most expensive and can run into the thousands however, the square footage of your porch will be included in your home's space when you sell, adding a lot of value to your house.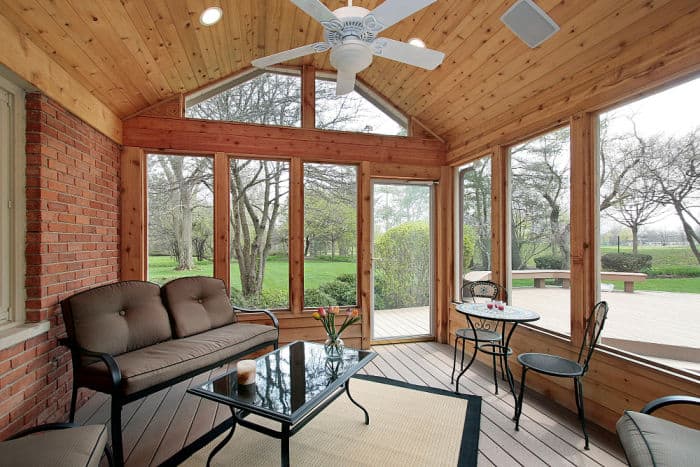 6. Glass Surround Porch
The next step up from a porch with windows is to create an atrium with all glass. This is a very popular style in Europe where it is the most common way to create an outdoor/indoor space in the home.
It's normally called a conservatory in the UK and is perfect for cooler climates as the glass creates a sense of warmth even on mild days. For this reason, these "green houses" are not a good solution for hot climates.
This is not a particularly budget-friendly option as conservatories typically start at around $10,000 for a simple square lean-to conservatory.
7. Add Window Seats
If you want to add some extra seating to your screened in porch, you can add window seats along the edges.
These are not too hard to make yourself and can be made more comfortable with cushions made from foam and covered in material (budget-friendly tip – use fabric drop cloth from the hardware store to cover your cushions, it's durable and cheap!)
Here are some tutorials and plans for making your window seats.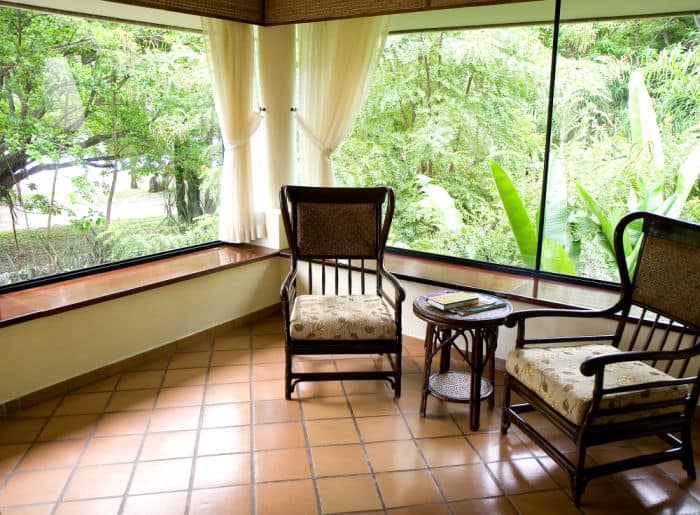 8. Add Blinds
If you don't want to hang drapes and are not interested in a more permanent solution like mesh screens, you could also hang roman shades or blinds in your porch to give you some privacy and shade.
Bear in mind that these will not stand up to extreme weather or keep the rain out.
9. Go Sheer
If privacy is your main concern and you want a really pretty option that looks amazing and is perfect for the wallet, consider adding sheer curtains to your existing porch.
These are really simple to hang and are one of the best screen porch ideas on a budget.
More Front Porch Decorating Ideas
14 Amazing Front Porch Roof Ideas