Beautiful porch curtains are a great way to add shade and privacy to your porch without spending a ton. Nowadays there are so many different options for outdoor curtains that there really is something for everyone.
In addition to your front porch, curtains can be used in backyard gazebos, covered decks and pool shelters. They are a cost effective way to close your porch with a traditional screened in porch.
Below you will find 10 really cute ideas for porch curtains that you can put up yourself in an afternoon.
This post contains affiliate links. Please read my Disclosure for more information. 
RELATED POSTS
Porch Curtain Ideas For Your Home
The most important thing to remember when choosing porch curtains for your home is to make sure they are the right length. You want the curtains to just skim the floor for a light and airy look.
There are tons of different options when it comes to outdoor drapes – there are blackout, waterproof and decorative curtains.
Just make sure to consider the climate you live in before purchasing unless you are willing to winter-proof your porch and take the curtains down every fall.
Sheer White Curtains
Flowy, gauzy white curtains are perfect for the summer. They look fantastic and give just enough privacy without being heavy. These ones from Amazon are bestsellers with great reviews. 
Classic Stripes
Stripy curtains outdoors remind me of 1960 seaside resorts. I love these teal and white curtains that are extra long for high gazebos and porches.
Tropical Patterns
If you are looking for curtains for your screened in porch you have more options and can go for an indoor curtain in whatever fun pattern you like.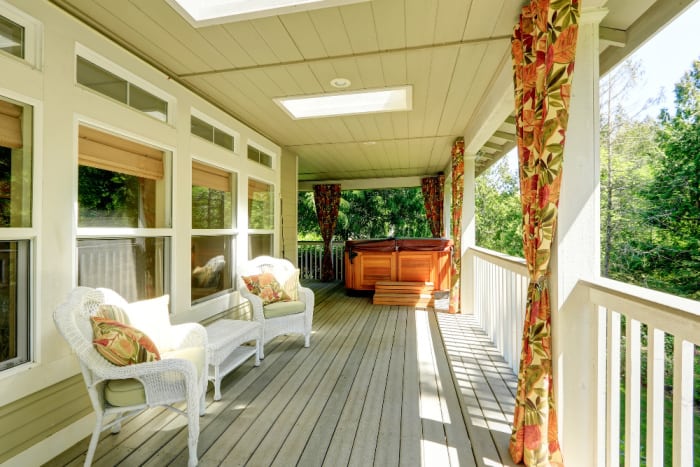 Moroccan Print Curtains
I love these print curtains for a really nice summer feel. They are great if your patio furniture is on the plain side and you need some pattern to jazz things up.
Detachable Tab Curtains
If hanging your porch curtains is proving to be an issue, you will be interested to discover these genius curtains. They have a sticky detachable tab which means you do not need to thread the curtains through a pole.
UV Protectant Outdoor Curtains
If your porch faces the sun and want to enjoy the time outdoors without it being too bright, you can put in these UV Protectant curtains that are also water repellant.

Heavy Blackout Curtains
If you want heavy curtains that won't keep blowing in the wind, these outdoor curtains are a great choice.  They are good if you live in a windy climate and they also block 90% of the sun's rays.

Cabana Curtains
These striped cabana curtains remind me of a Miami beach hotel pool area.
Windproof Curtains
If your porch or patio gets a lot of breezes, one option is to use grommets on both the top and bottom of the curtains. These thermal insulated curtains have grommets for installing at both ends to stop them flapping around in the wind.
Ombre Sheer Curtains
If you love the breezy look of sheer curtains but do not want to do classic white, check out these beautiful ombre striped drapes.
Outdoor Twinkle Light Curtains
Fairy lights add a beautiful atmosphere in the evenings and will make your outdoor space glow in the summer nights.
These twinkle light curtain lights are waterproof and suitable for outdoors. You can pair them with a sheer white voile curtain to create the the look.

More Front Porch Decorating Ideas
Front Porch Railing Ideas For Curb Appeal