Whether you have a sizeable porch or just need somewhere to store outdoor cushions and a few small items, there are tons of porch storage ideas that will work for your needs.
The great thing about the new kinds of storage boxes available now is that they are not as utilitarian as in the past, some don't even look like they are storage containers!
Find something that works with your decor and you will have a cute furniture piece as well as a functional store for blankets, outdoor shoes, umbrellas and more.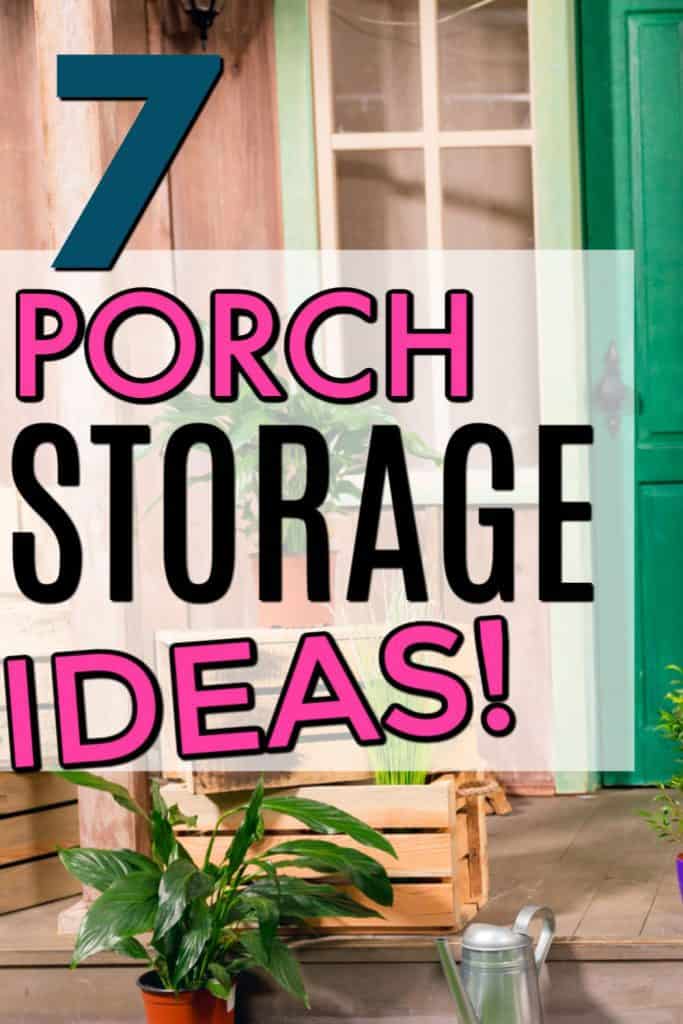 This post contains affiliate links. Please read my Disclosure for more information. 
RELATED POSTS
10 Amazing Porch Storage Ideas
Coffee Table
If you have space for a coffee table in your seating set, an outdoor storage ottoman is a perfect solution.
I love this wood look one from Amazon.It's a great size and gets over 900 awesome reviews.
Outdoor Bench Storage
If you have more room and want something that double as a seating option, consider one if the many outdoor benches you can get. They are available in all kinds of materials (wood, resin etc) and different finishes to suit your porch decor.
Side Table
If your porch is on the smaller side, consider getting a small deck box that you can use as a side table or for plant pots.
Even a small deck box like this one, will have enough room for most essential that you will want to store.

Shelving Ideas
If you would like to add some shelves to your porch, there are tons of cute ideas to pick from. I love these wooden shelves. They are roomy and get great reviews. Plus they fold up for winer storage! (click the photo to check the price).
Storage Trays
If you want something water resistant to store candles, gardening tools and other small items, you can get a galvanized tray like this one that even has handles.

Outdoor Baskets
One of the most easy and cost-effective porch storage ideas are outdoor baskets. You can get baskets with lids or simple resin ones like this one.

Furniture Flipping
Another great porch storage idea is to convert an existing piece of furniture into a storage centre that works for your space. Anything from nightstands, chests of drawers or buffets can be repurposed to make handy porch furniture.
Check out the example below from Saw, Nail and Paint.