Lots of decorating inspiration focuses on huge wraparound porches but what if you need small front porch decorating ideas on a budget? 
Not all of us are blessed with a large outdoor space but it is pretty easy to turn even the tiniest porch into an attractive entryway. 
Whether your porch is more of a covered entry,  (a small front porch like this is often called a portico),  or a skinny condo balcony, below you will find some cost-effective strategies to boost your curb appeal and add additional living space to your home.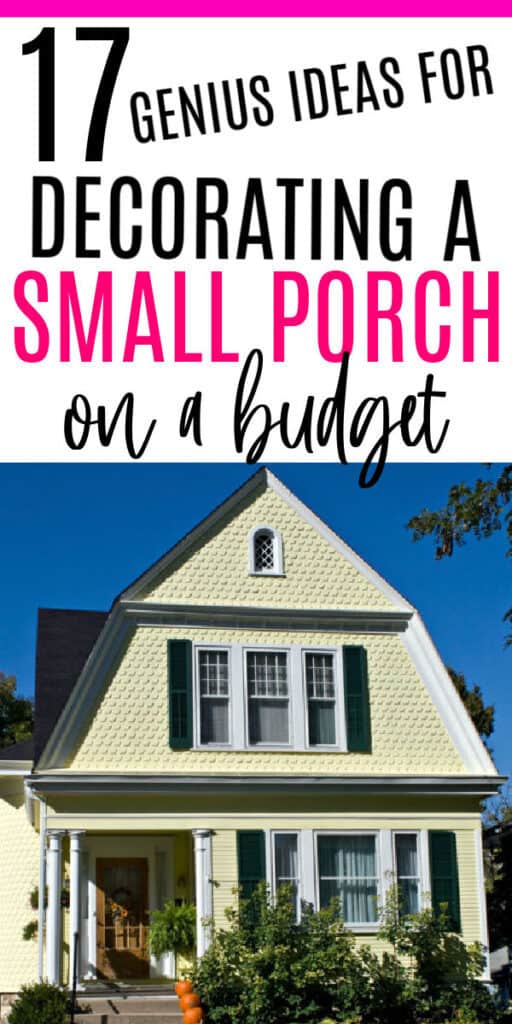 This post may contain affiliate links. Please read my disclosure for more information. 
RELATED POSTS
What can I do with a small front porch?
If your porch is really small, you may be wondering if anything can be done to make a seating area or even just to make your home look more inviting from the outside. 
You will be surprised to see that even the smallest front porch can be turned into something amazing on a budget. 
First of all, create a vision. Do you want somewhere to sit in the evenings and watch the world go by? Or are you looking to add a wow-factor to your entranceway?
17 Small Front Porch Decorating Ideas On A Budget 
1. Rethink your mindset
Instead of viewing your porch as something you pass through on the way to the house, start thinking of it as another room in the house. 
You can style a small front porch just as you would any other living space in your home – add your personal touch with decor and accent pieces. 
2. Use every inch
When space is precious, you need to really work every inch available. 
The easiest thing to do is to plan out your porch on a piece of paper. Think of everything you want to include (seating, plants etc) and then work from there. 
3. Go Vertical
Decorating a small front porch on a budget means being creative with your space. Look upwards and use the walls and even ceiling to decorate using outdoor pictures, wreaths and hanging plants. 
Below is a great example of  a small porch with artwork on the wall, seating and an outdoor rug to define the space. Click through to Design Dazzle for all the details. 
4. Make a seating area that works 
Condo sized furniture is easy to buy nowadays and will allow you to be flexible with the kind of seating you want. You can easily find small bistro sets or even more comfy chairs for small spaces on Amazon and home decor stores. I bought a great set on Amazon last year.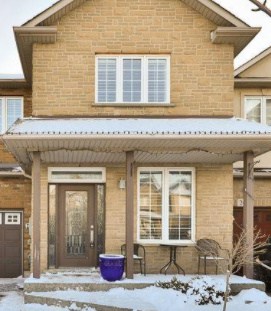 5. Change up the trim 
One of the easiest small front porch decorating ideas on a budget is to paint the trim of your porch a different color from your house. This adds visual appeal and makes the porch look like a separate space.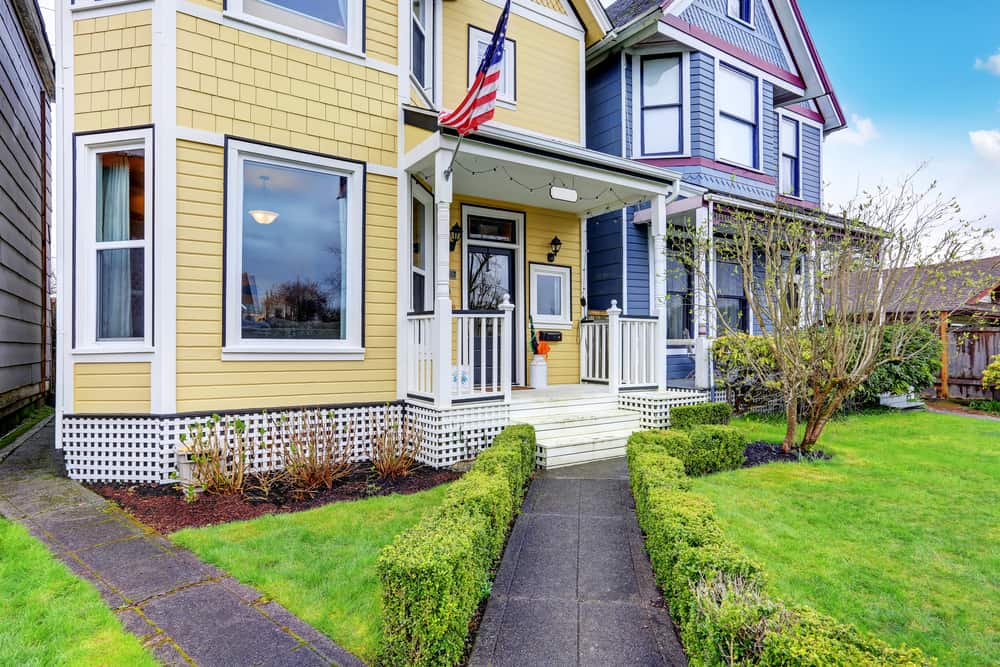 6. Extend the porch
Not everyone can do this but one idea to boost your small porch is to extend it out. This works especially well if you don't have porch railings. 
You can consider adding the seating to the front yard or using large planter boxes on the steps. 
7. Use an outdoor rug
An outdoor rug is a budget friendly way to define your outdoor space. You can buy small ones at stores like Michaels. A bright color always looks nice. 
8. Consider a bench
One way to add seating if space is tight is to use a bench. A bench can also double up as a storage space on your porch (or a place for the mailman to leave your parcels)
9. Double up on the storage 
While a bench that doubles as storage works great, you can also use ottomans like the one below as coffee tables and porch storage if you have the room.  Get more porch storage ideas here.
10. Use hanging baskets 
Flowers and plants really help to make a porch look inviting on a budget. If space is at a premium, consider adding hanging baskets to your porch columns or walls. 
11. Paint the door a contrasting color
If you don't want to paint the trim, another option to boost your home's curb appeal with a small porch is to paint your front door a bright color. 
12. Add a wreath 
A wreath is a really quick and easy way to decorate your porch relatively cheaply. Look for coupons at Michaels or even make your own wreath. 
13. Check out the dollar store 
The dollar store is a treasure trove of porch decorations for people who need to save money. You can buy materials to make your own wreaths, cushion covers, lanterns and twinkle lights. 
14. Paint is your friend 
I've already spoken about painting your trim or door but another way to elevate your porch is to paint the floor. The picture below is from a great tutorial on painting your porch from Rooms For Rent. 
You can find special non-slip porch paint at hardware stores and if you are feeling fancy, you can even create patterns with stencils.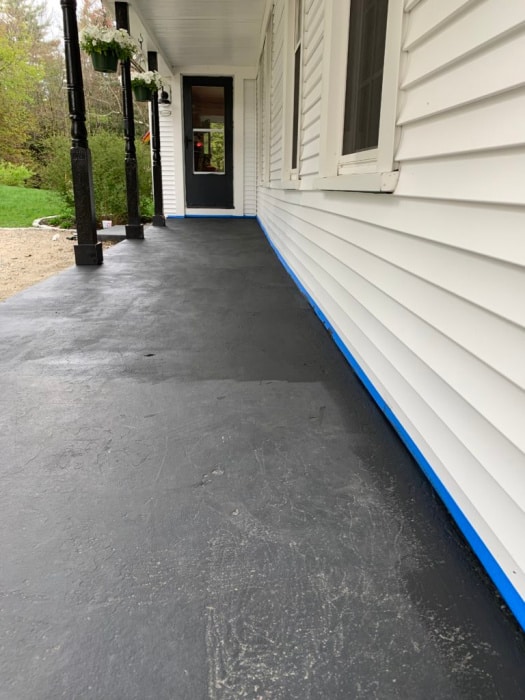 15. Enclose it
If your porch is really small and you can't make seating work, one option is to enclose your porch and turn it into a small mudroom.
 This is not as budget-friendly as some of the other options but it can increase your home's value by adding more square footage to your house.
16. Use the walls 
Don't forget that you can hang decorations on the walls of your porch to save space. I love this "Welcome to our porch" sign from Metal Unlimited on  Etsy.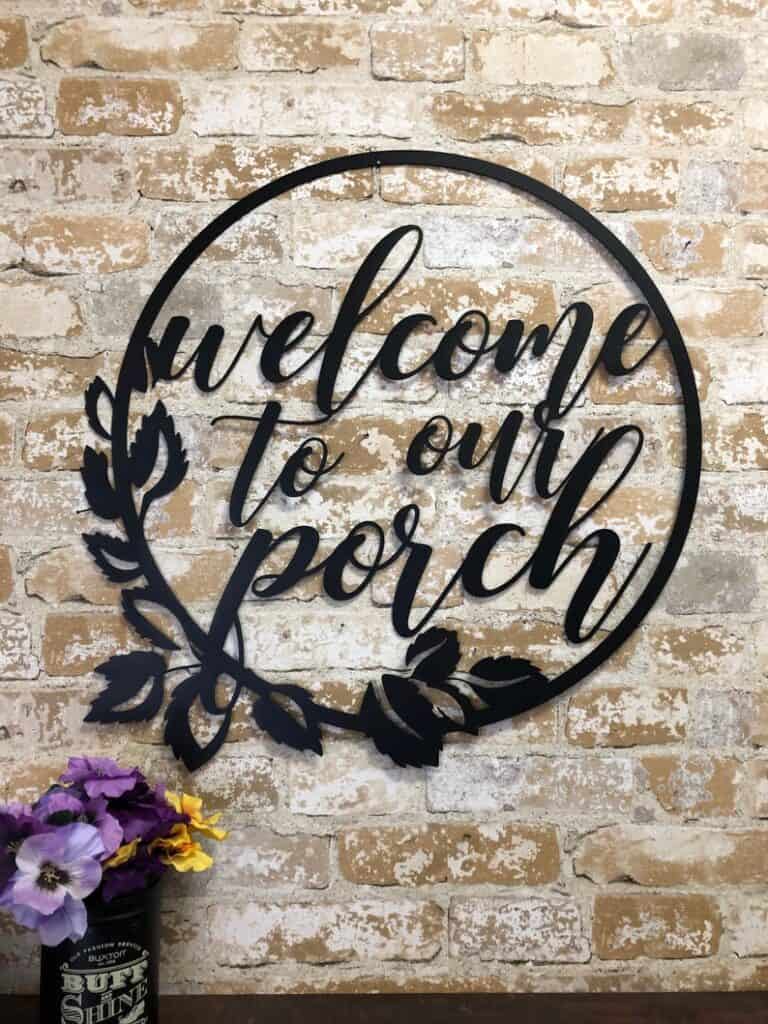 17. Don't forget the lighting 
Lighting is essential, especially if you have a small porch. Twinkle lights, hung high work well as well as a bright light by the front door.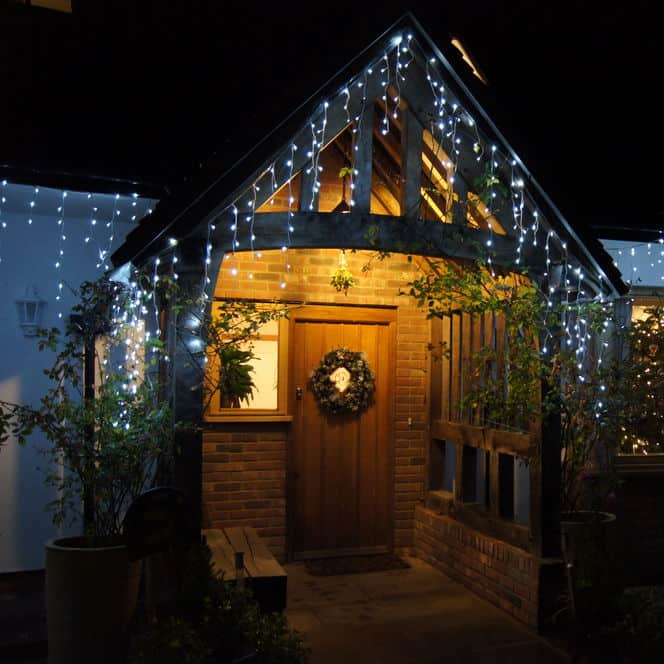 More Front More Decorating Ideas 
Front Porch Railing Ideas For Curb Appeal
14 Amazing Front Porch Roof Ideas
10 Fall Decorating Ideas For Outside