Easy Front Porch Christmas Decoration Ideas
You don't need to spend a fortune to get your home holiday ready! Check out these easy front porch Christmas decoration ideas and your home will be feeling festive in no time!
Your front porch is the first thing anyone sees when they come to your home and during the holidays we all tend to get more visitors (even if it is just the Fedex delivery man!).
Make your home look warm and welcoming this holiday season with the ideas and inspiration below.
This post contains affiliate links. Please read my Disclosure for more information.
RELATED POSTS
Check out the slideshow below for 50 Inspiration Christmas porch decorating ideas
How do I decorate my front porch for Christmas on a budget?
The easiest way to save money on your outdoor Christmas decorations is to use what you already have around the house or what you can find in nature.
Consider these ideas:
Evergreen sprigs attached to porch pillars
Wrap garland around the railings (check out these great ideas for Christmas railings)
Keep it simple with a wreath and planters
Make your own decorations
Ribbons wrapped around the pillars
DIY A Christmas Wreath (here are 30 ideas and tutorials)
Create faux gifts with empty boxes and wrapping paper
Hang lights from the railings
Use inflatable decorations
Cover pinecones in glitter and hang them from the railing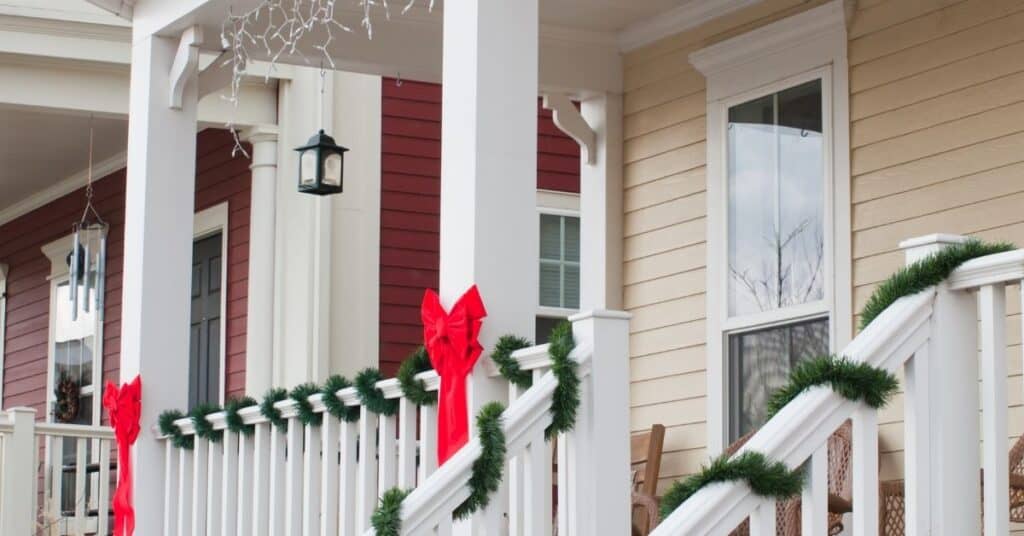 When should you decorate for Christmas outside?
Before it gets too cold is the right answer! I normally tend to decorate my front porch and the outside of my house a bit earlier than the inside because the weather gets cold quickly here in Canada.
If you live somewhere warm, you can wait until the beginning of December but where I live, it is not unusual to see people stringing lights outdoors in October.
Outdoor Christmas Light Decor Ideas
The main part of most outdoor Christmas decoration ideas are the lights.
Once you have picked your lights then the rest of the outdoor decorations can be formed around the lighting styles.
For those who want more sophisticated outdoor Christmas decoration ideas, white lights are the best to use since they create that classic, wintery effect in the yard.
The white icicle lights are a great variation to mix into the traditionally strung lights so that the home might be outlined in the white lights and the icicle lights can hang down from the eaves by the front door of the home or over the garage.
More lights can be added to the trees and bushes in the front yard to also create a luminescent effect in the yard, with the light nettings being convenient to use on the bushes since they are already evenly spaced and easy to put on or remove.
There are even lights that are already formed in a net-like configuration so that they can be easily placed and removed over bushes or small trees.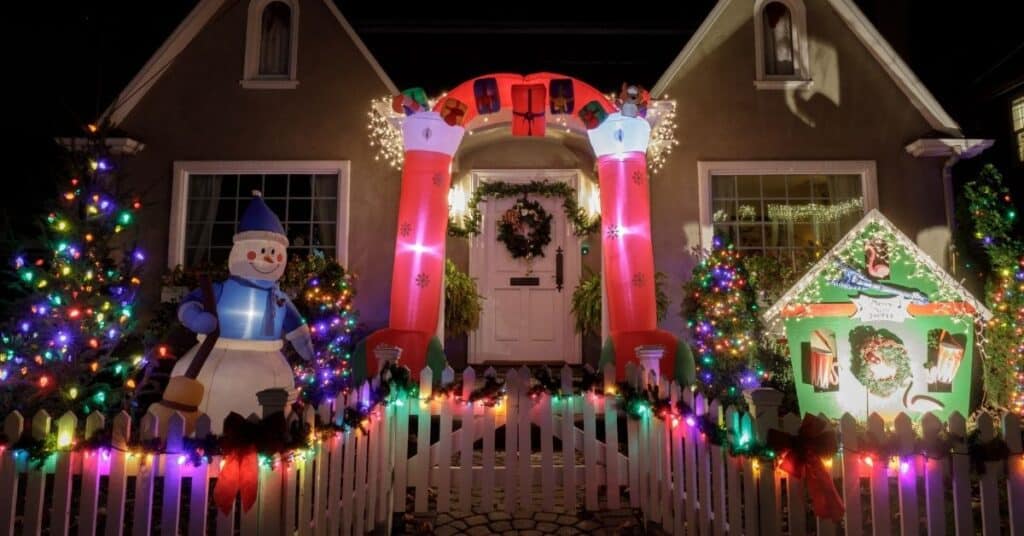 Tips For Using Inflatable Christmas Decorations
Inflatable Christmas characters and scenes are some of the most popular and are a really great way to decorate your porch for Christmas on a budget.
They are also perfect if you don't have much storage space in your home or garage as they fold up really small once the season is over.
Storing Your Inflatable Outdoor Christmas Decor
Inflatable outdoor Christmas decor need to be stored properly every year since these are only used seasonally.
The inflatable outdoor Christmas decor is usually made of soft nylon fabric which is light enough to billow when pumped with air.
The pump is constantly on to pump air into the inflatable outdoor Christmas decor .
Care For Inflatables
Inflatables are usually easy to store due to their soft material that folds or fits into smaller spaces quite easily. Care should be given before storing the inflatable outdoor Christmas decor because the state of the decor when it gets in the box will be as is when the box is opened nearly a year later.
Check the inflatable outdoor Christmas decor for food that may have stuck to it during the course of the season before storing it since food can be sought out by ants and other insects.
These can cause some problems since they might chew or bite on the nylon causing tears or cuts in the fabric.
Front Porch Christmas Themes
The world is your oyster when it comes to your front porch decorating.
Consider the following themes:
Santa's Village
The First Christmas
Candy Cane Lane
Gingerbread House
Winter Wonderland
Santa's Village
There are other people who like to use Santa Claus and his story in their Christmas decorations for outdoors.
In these themes, there is often a Santa Claus in his sleigh that are sitting on the roof of the house, often lighted so that it looks like Santa and the reindeer are moving while up there.
There are other sleighs that are made to sit on the lawn, and there are even Santa's that are made to look like they are just coming out of the chimney of the home.
There are elves and reindeer that can stand in the yard, often moving slowly, thus catching the passerby's eyes.
The First Christmas
You can also go with a religious theme in your outdoor Christmas decor.
There are many different sizes and styles of creche and nativity scene that are on the market today.
There are some that are made of wood while others are made out of wire or plastic. Some of the figures are life size or close to that, while others are smaller to fit in the yard more efficiently.
In some of the creches, there are all of the figures that are mentioned in the Christmas story, such as Mary, Joseph, Jesus, angels, animals, wise men and shepherds.
You can also include angels blowing their trumpets, as well as lighted crosses to stand in the yard.
Candy Cane Lane
Use red and white to make this theme come alive. You can buy fake candy canes and lollypops and then add in red and white garland around your front porch railings to make your home like a real candy cane house.
Gingerbread House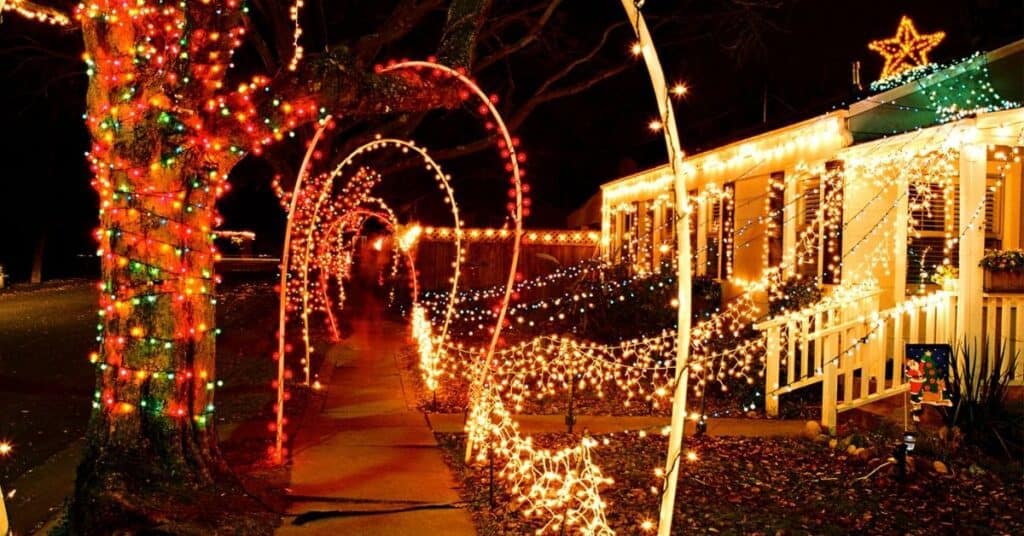 Similar to Candy Cane lane but with more lights! You can create the frosting lines on the roof of your house with strings of lights and add big gingerbread men inflatables or wooden decorations.
Winter Wonderland
Think of Disney's Frozen movie and go crazy with the teal, dark blue and silver for this theme. Use snowflakes and icicles to make your home look like a real frozen wonderland.
Natural Outdoor Christmas Decorations
The best easy front porch decoration ideas are often the simplest and you can't get more simple than creating a rustic Christmas.
Go for a hike in the woods and look for the following items to decorate your front porch:
Evergreen sprigs
Large branches
Holly
Pinecones
Magnolia leaves
Red Berries
Silver Birch branches
You can use these items to create a DIY planter or a wreath.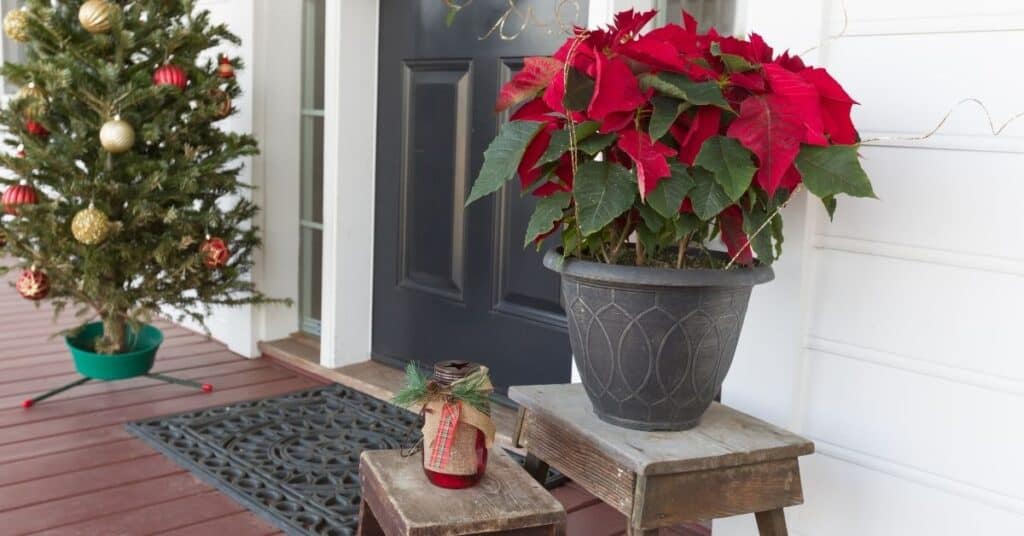 Easy Front Porch Christmas Decoration Ideas- Final Thoughts
If you want to boost your home's curb appeal this holiday season, there is no need to spend a fortune. Just take a page from nature or use what you already own and consider DIYing your Christmas decor.
More Tips For Holiday Decorating
Christmas Porch Railing Decorations
Front Porch Decorating Ideas For Christmas
30 DIY Christmas Wreaths For Your Front Door