Looking for sunroom ideas on a budget? Look no further than these tips and tricks for creating the perfect indoor/outdoor space without breaking the bank.
Besides the added value that they bring to your home, a Sunroom is a great idea for many other reasons. First of all a sunroom gives you the feeling of being outdoors no matter what the season.
Even if you live in a cold weather climate, a three or four season sunroom will let you enjoy the natural beauty of the outdoors year round.
Read on for the best tips on creating the sunroom for your dreams while sticking to your budget.
This post contains affiliate links. Please read my Disclosure for more information
RELATED POSTS
Advantages of Adding A Sunroom To Your Home
There are lots of advantages to adding a sunroom to your home and few disadvantages, other than the initial investment.
Increased Home Value
A sunroom patio enclosure will immediately increase the value of your home.
The way the sunroom beautifies your house is beyond compare. Plus it adds extra square footage to your property which is always a plus.
In fact, a lot of real estate brokers suggest the addition of a sunroom prior to sale. Properties with sunrooms are hot sellers, they say, and they can command a higher price.
Extra Space
A sunroom patio enclosure can serve as a venue for many events and gatherings in your residence. You can use it asn office, a playroom or a party room when you have guests over.
Mental Health
A sunroom patio enclosure, believe it or not, can have amazing benefits for your mental and emotional wellbeing.
Scientific studies show that exposure to sunlight actually improves the facilitation of mental processes as well as cures the ill effects of depression.
A sunroom can serve as your solace within your solace. It can become a place where you can be alone and enjoy the solitude.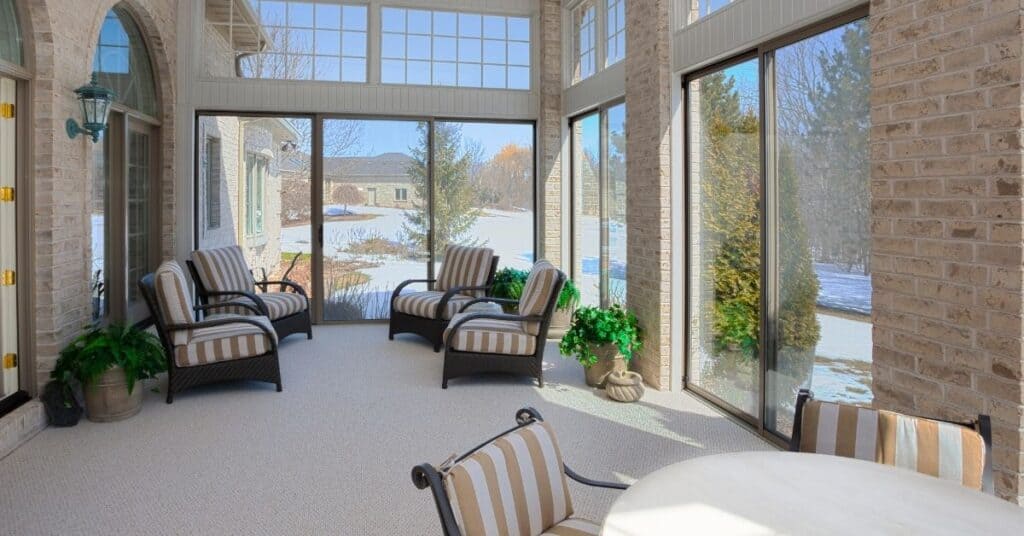 Tips For Adding A Sunroom To Your Home
Deciding to build a sunroom addition onto your home can be a great investment.
Not only will it likely increase the value of your home but it can also give you the feel of being outdoors even when the weather is not so warm.
By constructing a sunroom addition onto your home, you can receive the benefits of daily sunshine without harming your skin.
Once you have decided upon a sunroom addition for your home, you have two options.
You can either hire someone to custom build the room to your liking or you can purchase a sunroom kit and complete the project on your own.
Custom Built Sunrooms
First of all if you hire a contractor to do the job, you can have the room designed to your exact specifications.
If you are not especially handy with tools or construction projects, this is probably your best bet.
However, hiring someone else to do the job can be very costly.
Decide beforehand what size room you would like and then schedule an appointment with a contractor.
Discuss how you would like the room to look and what amount of cash you have to spend on the project.
Always ask for an estimate before agreeing to or signing any type of contract. I
It is also a good idea to get several job estimates before choosing someone to perform the job.
When hiring a contractor you should consider both their price and work experience.
Check to make sure that the company or individual you wish to hire has a reputable background.
Sunroom Kits
This is the most budget friendly option for adding a sunroom to your home on a budget.
There are a number of kits on the market if you choose to complete your sunroom addition on your own. B
e sure to choose a kit that is the basic design that you are looking for.
There are a number of sunroom kits on the market and it pays to do a little research first.
Check out all of the products available and comparison shop for the best prices without sacrificing quality.
By doing the project yourself you can save thousands of dollars on your sunroom addition.
Sunroom Orientation Tips
Consider the following before deciding where to put your sunroom.
Does the northern section of the house provide a panoramic view of the environment?
A sunroom at the northern section of the house will ensure shade most of the day, unless of course you're living in the Southern hemisphere.
Some homeowners desire a functional sunroom only during the mornings, hence, they construct one at the northern section. To achieve a great view, the northern section should be fronting a beautiful panorama.
East Facing Sunrooms
Most homeowners prefer their sunrooms to be at the eastern section.
Sun rises in the east, after all, and such will provide sunlight during the morning and shade during the afternoon.
Sunrooms on the west of your house
If you prefer to sit in your sunroom in the afternoons and watch the sunset then you will want your sunroom to be on the west of your house.
It is important to consider BOTH the location where you want the sunroom to be (which is dependent on how much sunlight you want to receive, and when) and the view that is provided by the said location.
To garner the sunroom decorating idea we have discussed above, both factors must jive.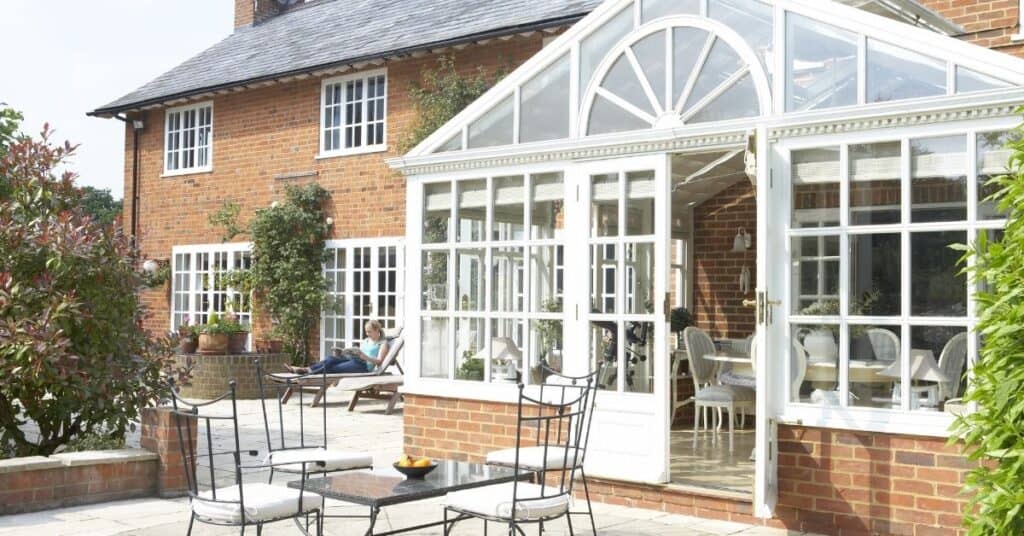 Sunroom Ideas on A Budget
The type of sunroom design you choose will greatly affect your costs.
Type of Material Used
A room that is composed almost entirely of glass will cost more than one that is made of other materials.
Many homeowners desire a sunroom that contains a glass roof or skylights.
Again expect to pay more when adding these features to your sunroom
Before deciding upon a specific type of sunroom design, look at all of the options that are available.
Entryway Options
You can choose a traditional door, sliding door, or French doors to compliment the look of your new room.
Windows
Also, consider the issue of windows. If your walls are not composed of mainly all glass, do you want windows that you are able to open?
Do you live in a very warm climate where screens may be a good option for the summer months?
Sunroom windows should be screened or tinted to keep the room from heating up in the summer months from the sunlight. Most people would prefer to just put decorative shades over a few or all of the windows to let only a desired amount of sunlight in rather than tinting because it can't be adjusted or moved.
Direct sunlight coming in through the windows in the heat of the summer will make your room feel like a sauna rather than a relaxing space.
Shades can be taken up when the sky is overcast or in the winter to provide natural heating.
All of these things should be considered when planning your sunroom design.
You will also want to consider the types of windows that you use on your sunroom.
Sunroom Ideas on A Budget
Click through to the slideshow below to get the best sunroom ideas on a budget. There are options and ideas for everyone and you are sure to find something that will inspire you.